Published in: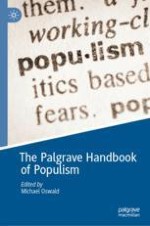 2022 | OriginalPaper | Chapter
1. The New Age of Populism: Reapproaching a Diffuse Concept
Abstract
Populism has become one of the most frequently researched topics in political science and varying conceptualizations and definitions have arisen since the term evolved into an analytical tool in the 1950s. But despite this extensive research agenda, the concept of populism is illusive and contested. Further, it is used in science as well as politics for many regionally different phenomena throughout history. As such, the term is utilized to characterize parties, movements, supporters of certain policies, attitudes and much more. Speaking to the negative normative connotation populism has been ascribed, it is sometimes also used within politics to defame oppositional actors. These normative presumptions—be it positively or negatively—have not escaped science either. We argue that it is high time to re-assess populism, especially in regard to its suitability for and applicability in the scientific debate. To that end, we take a historic perspective, assessing the historic roots of the concept and identifying common conceptual elements as well as elements that are not constitutive from a conceptual point of view. We also discuss the relation between populism and democracy further, especially in terms of the relation between populism and extremism. Finally, we offer an eclectic definition and propose a six-step orientation that should be viewed as an axiom as a means to re-assert the scientific value of the concept of populism as well as populism research writ large.