Published in: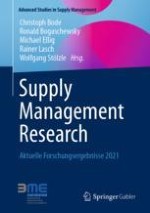 2021 | OriginalPaper | Chapter
The paradigm shift of supply chain management: risks, technological innovation and social impact
Technological change, as well as global disruptions such as pandemics, natural disasters, or trade wars, are causing increasing challenges to companies, policymakers, and society and impact the flow and management of goods in todayʹs global value networks. This dissertation investigates these challenges and risks due to the disruptive change through Industry 4.0, its management as well as economic, environmental, and social implications on supply chain management. The examination of supply chain risk management and the impact of the adoption of the Internet of Things, its influence on transparency, risk strategies and competitive advantage provides further value‐added. The application of systematic literature reviews, theory‐based case study research, and machine learning supported bibliometric and network analyses create a holistic review of existing literature, the identification of core aspects and research gaps. Furthermore, the results support decision‐makers in coping with uncertainties and enable the development of strategic and operational as well as technical and social capabilities to ensure superior performance.