Published in: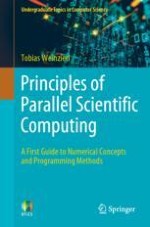 2021 | OriginalPaper | Chapter
1. The Pillars of Science
Abstract
We discuss the two classic approaches (pillars) to acquire new insight in science: experiment and theory. As computer simulations supersede the classic experiment and blackboard theory, we obtain a third pillar. This notion of a third pillar can be challenged, but it motivates us to define new research areas assembled under the umbrella of the catchphrase computational science and engineering. After a quick sketch of the simulation pipeline—typical steps required in any computational discipline—we introduce scientific computing as area conducting research into the tools enabling insight through computing.