Published in: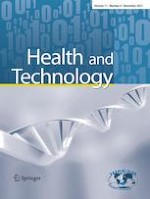 29-09-2021 | Short Communication
The potential application of blockchain technology in HIV research, clinical practice, and community settings
Published in: Health and Technology | Issue 6/2021
Log in
Abstract
In response to the HIV/AIDS epidemic, stakeholders such as clinicians, community advocates, and researchers have utilized various forms of technology to mitigate the crisis. Blockchain is a nascent technology that has roots in cryptocurrency and its features are well suited for work in HIV. These features, especially the ability to securely transmit information and interactions, make it a potentially useful tool to integrate into research and practice related to stigmatized diseases, such as HIV, which require methods of maintaining high security and confidentiality. In this viewpoint, we briefly describe blockchain technology and explore its potential applications in research, clinical practice, and community settings. In research, blockchain has potential use for data collection, data storage, and dissemination of sexual health information. With respect to clinical practice, blockchain features would be well suited for storage of patient data and medical records. Potential uses in the community settings include cryptocurrency for sex work, collaboration with dating applications, and storage of test results.