17-06-2019 | Issue 3/2020 Open Access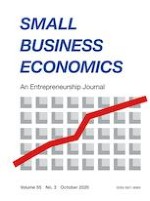 The promise of social signal processing for research on decision-making in entrepreneurial contexts
Journal:
Authors:

Werner Liebregts, Pourya Darnihamedani, Eric Postma, Martin Atzmueller
Important notes
Publisher's note
Springer Nature remains neutral with regard to jurisdictional claims in published maps and institutional affiliations.
3

A conceptual framework on decision-making involving social interactions

The conceptual framework in Fig.

1

aims to further clarify how individuals make decisions that are highly relevant to entrepreneurs and that involve social interaction.
×
In general, one needs complete and truthful information in order to be able to make the best decision. However, the available information is often incomplete—people tend to omit information that can harm their image (Gilmore et al.
1999
)—and hardly ever (fully) reliable (Barrick et al.
2009
). Impression management behaviors are widely applied (Nagy et al.
2012
), and some individuals come better prepared than others (Chen et al.
2009
; Pollack et al.
2012
). Nevertheless, some of the social signals cannot be controlled and are sent unconsciously. Even the best-prepared individual has involuntary and subtle facial expressions for a short period of time (Ko
2018
). Besides, consciously sent signals can also reveal underlying yet genuine emotions that are important for decision-making. Some of these may have been omitted in existing studies explaining decisions that are important for entrepreneurial performance.
The conceptual framework shows that decisions in entrepreneurial contexts that involve social interactions are not merely based on nonbehavioral cues. Among others, nonbehavioral cues include demographics and the traits and competencies of whom it concerns (e.g., Mitchelmore and Rowley
2010
). In turn, demographics are for example the individual's age, gender, and educational level. Entrepreneurial traits may include an individual's need for achievement, proactive personality, and entrepreneurial self-efficacy. A good example of an entrepreneurial competency is someone's network connectivity (Björk and Magnusson
2009
). Even though most of the nonbehavioral cues can also be observed during the interaction—at least, to a certain extent (think of estimating someone else's age)—usually they are already known beforehand. Prior information on nonbehavioral cues can be obtained by the decision maker, either through a shared history—as is the case with family, friends, (former) colleagues, and other acquaintances—or just by having received this information from the other individual. Think of an applicant sharing his demographics and signaling his traits and competencies by means of a cover letter and resume. Next to nonbehavioral cues, the decision maker also takes into account nonverbal and verbal behavior throughout the duration of the interaction.
First, nonverbal behavior may have a direct influence on the outcome of decisions by entrepreneurs or investors. Nonverbal behavior consists of all that is being done, next to the physical appearance.
1
This also includes nonverbal vocal behavior, i.e., expressive non-content characteristics of speech, such as pitch, tone, and tempo, and how one uses the space and environment (e.g., how one gets seated, if at all). Grahe and Bernieri (
1999
) emphasize the importance of nonverbal behavioral cues for decision-making. Especially people's facial behavior plays a major role in shaping perceptions during social interactions. Not only age and gender but also individuals' personality and attractiveness can be derived from a human's face (e.g., Ambady and Rosenthal
1992
). Accordingly, analysis of facial behavior can approve (or disprove) individuals' nonbehavioral cues. There is growing evidence in the entrepreneurship and broader management literature for the importance of nonverbal behavior for decision-making. For example, self-promotion and other impression management tactics positively influence the evaluation by job interviewers (Higgins et al.
2003
; Barrick et al.
2009
). Hand gestures and body postures have been shown to influence the perception of the employer, since it might signal confidence and dominance (Sterrett
1978
). Also, De Groot and Motowidlo (
1999
) have found that physical attractiveness, hand gestures, postures, and gaze behavior influence interviewers' judgements.
Concerning investors' decisions, research on entrepreneurial passion has suggested that the demonstrated passion of an entrepreneur in a pitch directly influences investor decision-making (Cardon et al.
2009
; Chen et al.
2009
; Pollack et al.
2012
). Hence, nonverbal behavioral cues such as using animated facial expressions, a lot of gestures, and talking with varied tone and pitch could send signals of passion to investors in an entrepreneurial pitch (Nagy et al.
2012
; Ciuchta et al.
2018
). In addition, research and practice of entrepreneurship would suggest that coachability is very important for investors and, for example, an open hand gesture, mimicry, and attention through eye contact could influence investors' judgment of entrepreneurs' degree of coachability (Ciuchta et al.
2018
).
Hence, we put forward the following proposition:
Proposition 1 (P1): Nonverbal behavioral cues have a direct relationship with decision-making in entrepreneurial contexts.
Second, verbal behavior may have a direct influence on the outcome of decisions by entrepreneurs or investors. Verbal behavior refers to all that is being said (or not, e.g., in the case of conscious non-disclosure of information), and, hence, is about the contents of speech. Appropriateness of the content has been shown to be one of the most important determinants of employment decisions within and outside the entrepreneurship context (Barrick et al.
2009
; Hollandsworth et al.
1979
). Candidates who respond concisely, cooperate fully in answering questions, and state personal opinions (when relevant) have higher chances to receive a job offer. These findings suggest that the verbal content of the interview may have a major influence on hiring decisions.
Preparedness of the entrepreneur is an important determinant of investors' decisions that is based on the content of the pitch (Clark
2008
; Pollack et al.
2012
). Clarity of the pitch content and the pitch structure would reflect preparedness and has a direct positive influence on investors' decisions. Entrepreneurs' ability to answer the questions of the potential investors' sufficiently, such as their calculative questions and questions on business assumptions, could majorly determine the outcome of the pitch (Pollack et al.
2012
; Ciuchta et al.
2018
).
Hence, we put forward the following proposition:
Proposition 2 (P2): Verbal behavioral cues have a direct relationship with decision-making in entrepreneurial contexts.
Moreover, we contend that both nonverbal and verbal behavioral cues moderate the effects of nonbehavioral cues on decisions in entrepreneurial contexts. Focusing on nonverbal behavioral cues first, the decision maker's (prior) perception of the characteristics and qualities of the opposing individual may change for the better or the worse due to this individual's nonverbal behavior during the interaction. This may eventually lead to another decision. For example, during a job interview, the entrepreneur's perception of a job candidate's qualifications may change depending on the candidate's appearance, facial expression, body postures, and hand gestures. In particular, we suggest that an initial judgment of the qualifications of the candidate, for example based upon the CV, is moderated by their physical appearance (e.g., formal or casual dress), eye behavior (e.g., gaze, rolling eye), and pitch voice (e.g., excitement, seriousness). Then, the job interview could strengthen or weaken the decision maker's assessment of the nonbehavioral cues.
Entrepreneurs' nonverbal behavior also moderates the relationship between their nonbehavioral cues and investment decisions. Clarke et al. (
2019
), for example, have found that using hand gestures to depict and symbolize business ideas had strong positive effects on the propensity to invest. They found that the skilled use of gestures by entrepreneurs helps investors to imagine aspects of the products and businesses that were conveyed partially through the pitch content. Entrepreneurs' nonverbal behavioral cues such as the pitch voice, their physical appearance, proper body postures, and gestures could convey the message of the entrepreneurs more clearly (or confuse the investor alternatively). If, for example, entrepreneurs are talking about a radically innovative idea while their voice is monotonous, their eyes are rolling, and they cross their arms, investors are less likely to perceive the idea as innovative (Clarke et al.
2019
).
Hence, we put forward the following proposition:
Proposition 3 (P3): Nonverbal behavioral cues moderate the direct relationship between nonbehavioral cues and decision-making in entrepreneurial contexts.
Fourth, verbal behavior moderates the effects of nonbehavioral cues on decisions in entrepreneurial contexts. As a matter of fact, verbal behavior is closely linked to nonbehavioral cues, because the information that is exchanged during the human interaction very much influences the view of the decision maker. In the case of decision-making by entrepreneurs, given that entrepreneurs are generally more intuitive in making decisions than non-entrepreneurs (Blume and Covin
2011
), they may extensively rely on their interactions with others. For example in the case of job interviews, proper answers, relevant personal opinions, signs of preparation in terms of interesting questions, and information about the background of the venture and the entrepreneur could extensively help interviewees to receive a job offer. Given the informality of the hiring process in a new venture, entrepreneurs are more likely to put heavier weight on exchanged information in an interview as compared to more established large companies.
Similarly, verbal behavior influences the perception of entrepreneurs' qualifications among investors. If entrepreneurs use appropriate words and structure their pitches well, they send the signal that their idea is legit and they have the capability and knowledge stated in their business plan (Pollack et al.
2012
). Chen et al. (
2009
), in an influential study, divided the passion construct into affective and cognitive dimensions. Cognitive passion, termed as "preparedness," refers to the substance and understanding of the business idea that entrepreneurs communicate through the content of their pitch. They found that preparedness has a positive influence on investors' decisions. Moreover, proper answers to investors' questions after the pitch and in the follow-up meetings are crucial to strengthen (or weaken) investors' opinions of the idea and the entrepreneur (Ciuchta et al.
2018
). Hence, clarity and precision of the pitch and in later meetings would legitimize the claims that entrepreneurs make in their business plan or the pitch decks.
Hence, we put forward the following proposition:
Proposition 4 (P4): Verbal behavioral cues moderate the direct relationship between nonbehavioral cues and decision-making in entrepreneurial contexts.
Finally, we also put forward the following proposition (Clarke et al.
2019
; Cornelissen et al.
2012
):
Proposition 5 (P5): Nonverbal behavioral cues moderate the relationship between verbal behavioral cues and decisions in entrepreneurial contexts.
The two times two counterclockwise arrows together forming a circle indicate that the nonverbal and verbal behaviors by both parties involved in the interaction are mutually dependent. Obviously, verbal behavior by the one depends on that of the other, and vice versa, just like any normal conversation unfolds. This principle, however, is also applicable to most of the nonverbal behavioral cues. For example, there is some evidence for speakers' tendency to imitate the vocal pitch of their conversation partner (Postma-Nilsenová and Postma
2013
). It clearly does not hold regarding the natural characteristics of the individuals' physical appearance, since it is predetermined and cannot be changed once the interaction started.
4

A detailed introduction to social signal processing
4.1

Social signal classification

With the emergence of powerful image and signal processing methods—that is, deep learning (LeCun et al.

2015

)—the automatic detection of social signals is becoming feasible. Deep learning refers to artificial neural networks, multilayered algorithms that process inputs in multiple stages. Each stage (or layer) is associated with adaptive parameters that contribute to the transformation of the input (e.g., an image of a face) to a desired output (e.g., the gender of the face). Typically, deep learning algorithms are trained by huge collections of data, consisting of "labeled examples," i.e., an example and its associated output. In our example, this would be an image of a face and a label specifying the gender of the face ("male" or "female"). During training, the parameters (the so-called connection weights) of deep learning algorithms are automatically adjusted according to a procedure that ensures that the adjustments are improving the quality of the transformation from input to desired output. For instance, in the case of a facial gender classification task, the individual connection weights of the network are adjusted to lower the occurrence of misclassified faces. A typical deep learning algorithm for image classification consists of millions of adjustable weights and requires about several million examples in order to be able to recognize previously unseen images with an accuracy of over 90% correct classification. Deep learning networks can also be successfully applied on one-dimensional inputs, e.g., acoustic signals such as speech. In addition, deep learning variants called recurrent neural networks can be successfully trained on classifying sequences of data, such as text or time series. The huge datasets required for training deep learning algorithms provide an obstacle for applications in domains in which data is sparse and data collection is costly. Fortunately, there is a growing number of pre-trained networks. The weights in such networks are optimized for a given task (e.g., facial gender recognition). Application to a closely related task (e.g., estimating the age of the depicted face) requires a relatively small amount of data for training.

What can deep learning detect in social signals? In what follows, following the taxonomy of Vinciarelli et al. (

2009a

), we review the application of SSP to three sources of social signals: (1) the body, (2) the face, and (3) the voice. Subsequently, we review approaches to measure the interplay of social signals in dyadic interactions.
4.1.1

Gestures and posture

Gestural and postural social signals have been argued to transmit a major part of the affective information. Aviezer et al. (

2012

) showed that the body is more important than the face in communicating social signals about the affective state (i.e., extreme positive and negative emotions). The automatic recognition of body posture and gestures of individuals can be performed quite reliably with deep learning algorithms. State-of-the-art algorithms can infer the body posture and gestures directly from videos of, for example, pitches to resource owners. Two recent examples are Open Pose (Cao et al.

2017

) and Dense Pose.

2

Both Open Pose and Dense Pose can recognize individual body parts and postures. Dense Pose is more precise and robust than Open Pose though.
4.1.2

Face and eye behavior

The automatic classification of facial social signals is an active research area. In recent years, convolutional neural networks have been applied to facial appearance classification, facial expression recognition, and video-based eye gaze detection. Fisher et al. (

2017

) suggested monitoring of eye movements of financial resource providers when evaluating a new venture description or during the entrepreneurial pitch. Such tracking of eye behavior is an innovative way to identify and isolate what investors pay attention to. In this respect, collecting and analyzing video-based eye gaze detection may be informative.

In a recent survey of "deep" facial expression recognition, Li and Deng (

2018

) list databases of still images and video sequences and the deep learning algorithms trained on these databases. Current software is able to detect facial expressions and facial action units (i.e., the building blocks of facial expressions). Emotional expressions (e.g., entrepreneurial passion, see Cardon et al.

2009

) are a challenge, mainly due to the lack of natural labeled data although that is about to change (Li and Deng

2018

). Most datasets contain posed expressions or evoked expressions. Typically, in these datasets, the faces are presented in frontal view and in suitable lighting conditions. Automatically recognizing facial expressions in the wild is a more challenging task.

Facial expression analysis can be performed from still images, video sequences, or depth information (e.g., acquired with a Kinect device). The iPhone X projects over 30,000 infrared dots on the face to create a depth map. Currently, the depth map is being used for face identification but in the near future, it may serve facial expression recognition as well.
4.1.3

Vocal behavior

Vocal social signals constitute both verbal and nonverbal components. The automatic recognition of verbal speech has made large strides recently (due to deep learning; Hinton et al.

2012

) but has not yet reached the level of human recognition. Vocal pitch supports verbal communication (e.g., statements versus questions) but also plays a fundamental role as a social signal. A well-known result is the effect of pitch on leadership perception. Humans with low-pitched voices are generally perceived as better leaders than those with high-pitched voices, although there is no evidence that humans with low-pitched voices are actually better leaders (Klofstad and Anderson

2018

). We know that leadership skills are important for the survival and growth of new ventures. Hence, through the detection of pitch voices, it could be studied whether or not in reality entrepreneurs with low-pitched voices are more successful in attracting investment, and, later on, in growing their venture. Traditional pitch determination algorithms rely on heuristic algorithms that extract the vocal pitch from the speech signal. Recent work showed the superiority of deep learning approaches in pitch determination (Han and Wang

2014

). Deep learning algorithms have also been applied to automatic affective speech classification, i.e., estimating the emotional state of persons from their vocal patterns, and achieving very good results (Trigeorgis et al.

2016

).

At present, depending on the circumstances (e.g., not too much noise in the background, not too much overlap of different voices), deep learning algorithms can reliably estimate vocal pitch and prosodic patterns associated with emotions. The main limitation of current systems is the scarcity of labeled data on vocal expressions in the wild. Suitable large-scale databases are likely to become available in the coming years (for a recent overview of available databases for speech emotion recognition, see Swain et al.

2018

).
4.2

Dyadic interactions

All three types of social signals are often studied for individuals in isolation. Per definition, social signals are associated with interacting humans. Hence, the study of dyadic interactions is of prime interest to understand the social dynamics of interlocutors. A range of studies has focused on measuring the dyadic interactions of social signals.
5

Concluding remarks and discussion

The aim of this conceptual paper is to introduce contemporary research methods to entrepreneurship researchers that can advance our understanding of the decision-making processes of entrepreneurs as well as others yet directly affecting entrepreneurs, with a special focus on decision-making processes that are influenced by social interaction. In particular, we discuss and illustrate the relevance and potential value of the emerging domain of social signal processing. SSP refers to a number of modern technologies utilizing artificial intelligence that can automatically detect and analyze social signals being sent during human-to-human interactions. We claim that SSP techniques are more accurate and more efficient than conventional methods (i.e., manual coding and/or rating). Moreover, it may identify important characteristics that hitherto have been absent in research explaining how entrepreneurs and investors arrive at their decisions.

Several important aspects should be carefully considered when using SSP for research on decision-making. First, we acknowledge that algorithms may be biased as well (Hajian et al.

2016

; Pournaras et al.

2017

). This is mainly because algorithms collect and process data and use tags that are created in subjective ways by humans with certain perspectives on matters. Thus, the use of technologies will not lead, by any means, to pure facts and fully objective information. They rather help with providing further insights into decisions involving social interactions and, hence, have to be seen as a step into the right direction. Second, decision-making can be either individual or team-based. Dynamics of individual decision-making is substantially different from those of team-based decision-making, since the latter includes interpersonal tensions and other people's problems (Wasserman

2013

). This once more suggests the importance of a multilevel perspective in future studies on entrepreneurial decision-making (Shepherd

2011

). Third, while we have mentioned heuristics, intuitive, and adaptive decisions a few times before, we do not necessarily consider them as errors (Tversky and Kahneman

1974

) or drawbacks in decision-making processes. Some other studies in the fields of psychology and behavioral economics (e.g., Tetlock and Mellers

2002

; Zhang and Cueto

2017

) refer to this as "the great rationality debate", and argue there may actually be some value added in entrepreneurs using heuristics and intuitive decisions, as is also discussed in the effectuation literature (Sarasvathy

2001

). In addition, there is evidence showing that entrepreneurs using such decision-making principles succeeded in venture creation and growth (Koellinger et al.

2007

; Navis and Ozbek

2016

). This discussion resembles the System 1 and System 2 thinking metaphor (Kahneman

2003

) and whether, when, and to what extent System 2 thinking should replace System 1 thinking. According to Milkman et al. (

2009

), "a key task for psychologists is to identify how and in what situations people should try to move from intuitively compelling System 1 thinking to more deliberative System 2 thinking, and to design situations that make System 1 thinking work in the decision maker's favor" (p. 382). Finally, the use of SSP should not necessarily be confined to research on decision-making by entrepreneurs or investors. In fact, SSP can also be applied in other inter- or intrapersonal contexts, such as negotiations. It may provide individual feedback on, for example, emotions involved in the negotiations.

Future studies are encouraged to implement what has been proposed in this paper. In particular, these studies might want to look into interactions that entrepreneurs have with other relevant actors, such as customers, suppliers, and advisors. Entrepreneurs have their own unique ways to interact with their stakeholders that can be explored in future studies. Although the domain of SSP is rapidly emerging, entrepreneurship scholars should be aware about what exactly can be obtained at this stage of development of the SSP field. For example, it is still a challenge to derive emotions and personality traits from social signals. Unlike computerized text analysis with developed and tested tools such as Receptiviti (Obschonka et al.

2017

), SSP, at this stage, has not yet developed a product ready to be used, neither by entrepreneurs nor by entrepreneurship scholars. Thus, in the meantime, entrepreneurship scholars most likely need to rely on data scientists to collect and analyze data on social signals.
Open Access
This article is distributed under the terms of the Creative Commons Attribution 4.0 International License (http://creativecommons.org/licenses/by/4.0/), which permits unrestricted use, distribution, and reproduction in any medium, provided you give appropriate credit to the original author(s) and the source, provide a link to the Creative Commons license, and indicate if changes were made.
Publisher's note
Springer Nature remains neutral with regard to jurisdictional claims in published maps and institutional affiliations.
Footnotes
1
An individual's physical appearance is determined by both natural and artificial characteristics. Examples of natural characteristics are individuals' height, body shape, and hair color. Artificial characteristics are objects "used to modify/accentuate the facial/body aspects" (Vinciarelli et al.
2009a
: 1745), such as clothes and make-up.