21-08-2017 | Issue 11/2017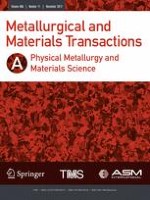 The Radial Temperature Gradient in the Gleeble® Hot-Torsion Test and Its Effect on the Interpretation of Plastic-Flow Behavior
Authors:

S. L. Semiatin, D. W. Mahaffey, N. C. Levkulich, O. N. Senkov
Important notes
Manuscript submitted May 15, 2017.
Abstract
The radial temperature gradient developed
via
direct-resistance heating of round-bar hot-torsion specimens in a Gleeble
®
machine and its effect on the interpretation of plastic-flow behavior were established using a suite of experimental, analytical, and numerical-simulation tools. Observations of the microstructure variation developed within a
γ
′-strengthened nickel-base superalloy were used to infer the temperature gradient as well as differences between the temperature at the outer diameter and that indicated by thermocouples welded to the surface. At temperatures of the order of 1375 K (1102 °C), the radial variation of temperature was typically ~20 K (~20 °C). Such variations were in agreement with an analytical heat-conduction model based on the balance of input thermal energy and radiation heat loss at the free surface. Using a constitutive model for LSHR, the effect of the radial temperature gradient on plastic flow during hot torsion was assessed
via
numerical integration of the torque as a function of radial position for such cases as well as that corresponding to a uniformly-heated sample. These calculations revealed that the torque generated in the non-uniform case is almost identical to that developed in a sample uniformly preheated to a temperature corresponding to that experienced at a fractional radial location of 0.8 in the former case.