01-06-2015 | Issue 3/2015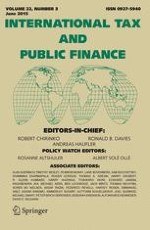 The Re-distributive Role of Child Benefits Revisited
Journal:
Authors:

Tomer Blumkin, Yoram Margalioth, Efraim Sadka
Important notes
The authors wish to thank the editor and two anonymous referees for helpful comments. The usual disclaimer applies. The first author wishes to dedicate the paper to his late and much loved father who succumbed to cancer shortly after this project was initiated.
Abstract
In this paper, we reexamine the commonly invoked argument that due to the existence of a negative correlation between earning ability and family size, the latter can be used as a "tagging" device, justifying subsidizing children (via provision of child allowances) to enhance egalitarian objectives. Employing a benchmark setting where the quality–quantity paradigm holds, we show that the case for subsidizing children is far from being a forgone conclusion. We demonstrate that the desirability of subsidizing children crucially hinges on whether benefits are means-tested or are offered on a universal basis.