01-06-2015 | Original Article | Issue 12/2015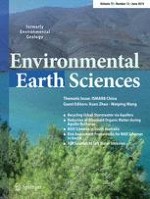 The relationship between and evolution of surface water and groundwater in Songnen Plain, Northeast China
Journal:
Authors:

Bing Zhang, Xianfang Song, Yinghua Zhang, Dongmei Han, Changyuan Tang, Lihu Yang, Zhong-Liang Wang
Abstract
To improve water management, the relation and the hydrochemical evolution of surface water and groundwater were studied in the Songnen Plain. The surface water and groundwater samples were evaluated for stable isotopes and hydrochemistry analyses. The stable isotopic compositions (
δ
18
O,
δ
D) indicate the groundwater recharges from the precipitation. However, the connectivity between surface water and groundwater is weak, because of the clay layer and the interrupted aquifer. The water evolution is from Ca–Mg–HCO
3
to Na–HCO
3
by the evaporation, water–rock interaction, and ion exchange processes. The water evaporation and leaching of saline–alkaline soil are the main reasons for water salinity. Further, the leaching of salts in the soil during recharging from backwater and irrigation water intensifies the salinization. The relationship between and evolution of surface water and groundwater provide important guidance for water management not only in the arid and semi-arid area, but also in the soda saline–alkali soil regions of the world.