01-09-2006 | Issue 17/2006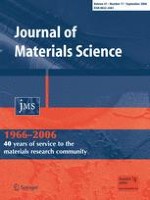 The relationships between microstructure and crystal structure in zincite solid solutions
Journal:
Authors:

T. Yamashita, R. Hansson, P. C. Hayes
Abstract
Single phase (Zn,Fe)
1−

x
O zincite solid solution samples have been prepared by high temperature equilibration in air and in reducing atmospheres, followed by quenching to room temperature. The Fe
2+
/Fe
3+
concentrations in the samples have been determined using wet chemical and XPS techniques. Iron is found to be present in zincite predominantly in the form of Fe
3+
ions. The transition from an equiaxed grain morphology to plate-like zincite crystals is shown to be associated with increasing Fe
3+
concentration, increasing elongation in <001> of the hexagonal crystals and increasing anisotropic strain along the
c
-axis. The plate-like crystals are shown to contain planar defects and zincite polytypes at high iron concentrations.