Published in: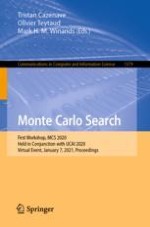 2021 | OriginalPaper | Chapter
The
\(\alpha \mu \)

Search Algorithm for the Game of Bridge
Abstract
\(\alpha \mu \)
is an anytime heuristic search algorithm for incomplete information games that assumes perfect information for the opponents.
\(\alpha \mu \)
addresses and if given enough time solves the strategy fusion and the non-locality problems encountered by Perfect Information Monte Carlo search (PIMC). Strategy fusion is due to PIMC playing different strategies in different worlds when it has to find a unique strategy for all the worlds. Non-locality is due to choosing locally optimal moves that are globally inferior. In this paper
\(\alpha \mu \)
is applied to the game of Bridge and outperforms PIMC.