19-02-2019 | Issue 2/2020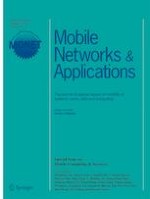 The Signal Control Optimization of Road Intersections with Slow Traffic Based on Improved PSO
Journal:
Authors:

Hongluan Zhao, Guoyong Han, Xiaofei Niu
Important notes
Publisher's Note
Springer Nature remains neutral with regard to jurisdictional claims in published maps and institutional affiliations.
Abstract
The slow traffic in cities with pedestrians and bicycles is becoming more and more important due to their environmental protection and low carbon. However, the driving at the road intersections is seriously mixed and easy to jam. Traffic delays mainly occur here. Improving the traffic efficiency of the intersections plays an important role for the alleviation of traffic congestion. In this paper, a multi-objective signal timing optimization model is established about the vehicle average delay, slow traffic delay, vehicle stopping times and traffic capacity. Then an improved particle swarm optimization algorithm (PSO) is used to solve it. The experimental results show that the model is optimized to reduce the vehicle delay, slow traffic delay and stopping times of an intersection, and then increase the traffic capacity. So the multiple indicators of an intersection are improved, which have significant effects on the increase of operational efficiency of an intersection.