01-02-2013 | Original Paper | Issue 2/2013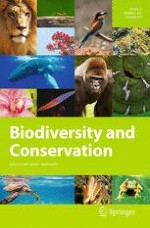 The small, the forgotten and the dead: highway impact on vertebrates and its implications for mitigation strategies
Journal:
Authors:

Alberto González-Gallina, Griselda Benítez-Badillo, Octavio R. Rojas-Soto, Mircea G. Hidalgo-Mihart
Abstract
Roads affect wildlife in many ways, and probably the most conspicuous of these is by producing roadkills. In Mexico few studies have addressed this issue. In the present study, we look at the richness and abundance of vertebrate roadkills along a 14 km stretch of the Amozoc-Cantona-Perote highway, at the border of the states of Veracruz and Puebla and across two environments: shrubland and grassland. The highway was sampled on 34 days between June 2010 and March 2011. A total of 946 animals were recorded as killed by traffic, and belonged to 58 species. Ten of these are under some protection status by Mexican law. Diversity values for shrubland were D = 0.52 and for grassland D = 1.2, both with Bray–Curtis similarity values of I
bc
= 0.12 and complementarity (C
AB
) was 98.5. The most common roadkilled animals were rodents (genus
Peromyscus
). We estimate that 11,899 vertebrates are killed annually in this section of the highway. This study highlights the need for designing and applying policies and actions for road construction and maintenance that, together with driver's education, will allow us to increase landscape connectivity and decrease wildlife roadkills.