01-07-2019 | REPRESENTATION, PROCESSING, ANALYSIS, AND UNDERSTANDING OF IMAGES | Issue 3/2019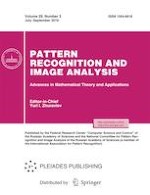 The Stability and Noise Tolerance of Cartesian Zernike Moments Invariants
Authors:

Yanjun Zhao, Saeid Belkasim, Alberto Arteta, Sanghoon Lee
Important notes
Yanjun Zhao
is an Assistant Professor of Computer Science at Troy University, USA. Her researches mainly include image processing, pattern recognition, data mining and machine learning. She received her B. S. Degree in Computer Science and Technology from Jilin University, China, and her MS Degree and PhD Degree in Computer Science from Georgia State University, USA. She was awarded Brain & Behavior (B&B) Fellowship and Second Century Initiative (2CI) Fellowship from Georgia State University. She has severed as Program Committee Member or Technical Program Committee Member for several international conferences, such as ICIBM2015, BDCloud2016, ITAIC2011, ICACAR2018. Currently she serves as Editorial Board Member for International Journal of Engineering Research in Computer Science and Engineering (IJERCSE) and The Research Journal of Computer Science and Information Technology (RJCSIT). She is also a member of IEEE society.
Saeid Belkasim
is a well-known researcher in image processing and shape recognition. He started his publications in this area since the late 80's and early 90's. The most noted publication is the comparative study of moment invariants for extracting shape features. This article won the prestigious most honorable mention award given by the international pattern recognition society for the year 1990. His research publications have been cited in several books, theses and over 1900 refereed international journals and conference proceedings. His publications cover many topics in image processing and pattern recognition such as image segmentation, image compression, image retrieval and image databases.
Alberto Arteta
is currently an Assistant professor of Troy University. He's been working in Math and Computer Science departments since 2007. His main area of interest includes the study of new computational models such us membrane computing, cells computing, evolutionary computing and Neural Networks. He holds his PhD in this field and have published papers his work in prestigious journals and symposium such us "Engineering Application of Artificial Intelligence", "Evolutionary computation", "IEEE membrane computing symposium", etc. Furthermore, Dr. Arteta provides expertise and professional experience in the private sector in 12 companies as employee and as founder, working mainly in Holland and Spain. Most of his roles have been Developer, System engineer and Database Consultant.
Sanghoon Lee
is a postdoctoral fellow at Emory University School of Medicine, where he is highly motivated to pursue the multidisciplinary research career supported by NIH U24 grant. He has M.S and PhD degrees in Computer Science from the Georgia State University. He was one of Brain & Behavior fellows in Neuroscience Institute and was one of Second Century Initiative Presidential Fellows at Georgia State University. His research interests include Machine Learning, Deep Learning, Data Mining, Information Retrieval, and Digital Pathology. He currently serves as a member of Digital Pathology Association and a TPC member of ACM Research in Adaptive and Convergent Systems.
Abstract
In real applications, it is quite common that shapes may have changes in orientation, scale, and viewpoint; a shape retrieval method should be unaffected by translation, rotation, and scaling. Zernike moments are widely used in shape retrieval, due to its rotation invariance. However, Zernike moments are not directly invariant under scaling and translation. Recently, Cartesian Zernike Moments Invariants (CZMI) were introduced to make Zernike moments directly invariant under scaling and translation. Although CZMI reduce the scale errors considerably, they are inconsistent and the scale errors increase for high aspect ratio shapes. In this paper, we introduce a scale invariance parameter which reduces the scale errors, improves the stability of the scale invariance and is more robust for wide range of shapes; even if the shapes are corrupted by different kinds of noises, such as Gaussian, Salt & Pepper and Speckle noise, our combined scale invariance parameter still has good performances.