20-11-2019 | Issue 1/2020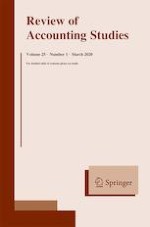 The term structure of implied costs of equity capital
Journal:
Authors:

Jeffrey L. Callen, Matthew R. Lyle
Important notes
Publisher's note
Springer Nature remains neutral with regard to jurisdictional claims in published maps and institutional affiliations.
Abstract
We model and estimate the term structure of implied costs of equity capital (and implied risk premia)
at the firm level
for the years 1996–2015 from forward looking option contracts. Empirical tests reject the assumption that the term structure of implied firm-level costs of equity is constant over different time horizons. Instead, we find that the term structure is often upward sloping and concave. However, we also find that the term structure flattened during the 1998 and 2007–2008 crises and even sloped downward during part of 2008. Term structure estimates are shown to predict future stock returns and volatilities over multiple horizons. In contrast to static implied cost of capital models, the term structure estimates can capture ex ante the well-documented earnings announcement premium. Moreover, various firm-level characteristics related to firm performance and risk are shown to explain some of the cross-sectional variation in the shape of the term structure.