01-06-2015 | Originalarbeit | Issue 5-6/2015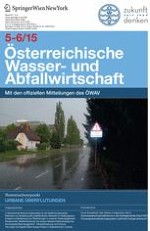 The upper Qu'Appelle water supply project in Saskatchewan, Canada: upland canal ice study
Authors:

Ph. D., P. Eng. Assoc. Prof. Karl-Erich Lindenschmidt, Dr.-Ing. Dirk Carstensen
Abstract
This study investigates two design options that complement the original Upper Qu'Appelle Upland Canal (consisting of a 31 km long West Canal and a 53 km long East Canal) in Saskatchewan, Canada to accommodate flows of up to 6 m3/s during winter: (i) the additional installation of a pilot channel running along the canal bottom to constrict the flow width and increase the flow depth under the ice cover and (ii) the installation of check structures to back up water and provide additional depth for flow under the ice cover and submergence of intakes used for irrigation abstractions. The combined flow of the Upland Canal and the existing valley floor channel, the upper Qu'Appelle River, can be up to 8 m3/s in the winter, thus flows in either could range from 2 to 6 m3/s.
Additional flow depth for low flows under ice is sought to prevent the water column from freezing to the canal bottom and the ice cover grounding to the canal bed. This could potentially increase erosion and scour the gravel or rip-rap armouring causing a protective reinforced polyethylene (RPE) liner to lift and tear away from the bed. Additional armour material such as ArmorFlex and Flexamat are considered as alternatives. However, knowledge and experience is sparse on the impacts of ice on these materials. The deterministic numerical model RIVICE was implemented to calculate water depths under the ice cover at freeze-up. The ice cover was initiated by the juxtaposition of frazil ice pans at freeze-up and thickened thermally during the course of winter. An empirical modelling approach based on the Stefan equation was used to predict a maximum ice thickness of 120 cm occurring in extremely cold winters.
The canal in its original design or adapted to include a pilot channel along its bottom are not recommended options for water conveyance during winter. Water depths are too shallow making the canal and channel susceptible to ice grounding, scouring and increased erosion. Check structures provide substantially more water depth for flows under the ice cover, however there may still be a risk of bankfast ice dislodging armouring and damaging underlying liners.