18-11-2019 | ELECTROMAGNETIC MEASUREMENTS | Issue 7/2019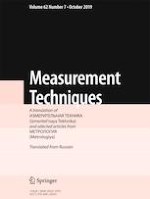 The Use of Projection Methods of Multivariate Analysis in Eddy Current Thickness Measurement
Journal:
Authors:

A. V. Egorov, V. V. Polyakov, Ya. I. Bortsova
Important notes
Translated from Izmeritel'naya Tekhnika, No. 7, pp. 49–53, July, 2019. Original article submitted May 30, 2019.
Multifrequency eddy current measurements of the thickness of non-magnetic metallic materials with dielectric coatings have been carried out. Based on the principal component analysis, the influence of competing factors such as electrical conductivity, thickness of the metal substrate and thickness of the dielectric layer is separated. Using the projection method on latent structures, eddy current measurements have determined the numerical values of the thicknesses of aluminum and copper plates and dielectric coatings.