Published in: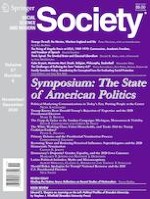 01-12-2020 | Symposium – The State of American Politics
The White Working Class, Union Households, and Trade: Did the Trump Coalition Endure?
Published in: Society | Issue 6/2020
Login to get access
Abstract
Donald Trump's victory in the 2016 presidential election caught many political experts by surprise. Looking to uncover the reasons for this unexpected outcome, social scientists presented several explanations in the election's aftermath. In this article, I discuss one of these explanations: Trump's success in winning white working-class voters by an overwhelming margin. I also discuss his success in narrowing the advantage that Democratic presidential candidates typically enjoy with voters in union households. Using data from the 2012 and 2016 National Election Pool (NEP), and the 2016 Cooperative Congressional Election Study (CCES), the results in this work show that Donald Trump won the support of white working-class voters and was competitive with voters in union households. By expanding previous Republican margins with white working-class voters and by narrowing the Democrats' typical union household advantage, Trump secured himself victories in Pennsylvania, Michigan, and Wisconsin, which ultimately won him the election. Four years later, exit polls indicated that Trump's support among these groups in the 2020 election was still strong but somewhat diminished.