Published in: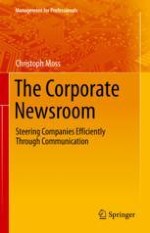 2021 | OriginalPaper | Chapter
1. "There Will Never Be a Newsroom": The Discussion About Topic-Oriented Control in Corporate Communications
Abstract
"There will never be a Newsroom." When this sentence was uttered, the author of this article was in the middle of presenting a Newsroom project. The representatives of the company did not like the idea that there could be open spaces, defined processes, a conference system and perhaps even an operational control unit in their communications department: "There will never be a managing editor either" was the seemingly clear message. The controversial discussion lasted an entire day. In the evening, the wind changed. The Newsroom was decided, developed and built after several months of intensive planning. The bottom line was that it was a successful project, even though the beginning was more than bumpy.