12-09-2017 | Issue 11/2017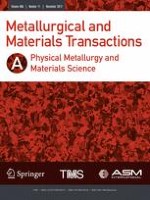 Thermal Modeling of Resistance Spot Welding and Prediction of Weld Microstructure
Authors:

M. Sheikhi, M. Valaee Tale, GH. R. Usefifar, Arash Fattah-Alhosseini
Important notes
Manuscript submitted February 8, 2017.
Abstract
The microstructure of nuggets in resistance spot welding can be influenced by the many variables involved. This study aimed at examining such a relationship and, consequently, put forward an analytical model to predict the thermal history and microstructure of the nugget zone. Accordingly, a number of numerical simulations and experiments were conducted and the accuracy of the model was assessed. The results of this assessment revealed that the proposed analytical model could accurately predict the cooling rate in the nugget and heat-affected zones. Moreover, both analytical and numerical models confirmed that sheet thickness and electrode-sheet interface temperature were the most important factors influencing the cooling rate at temperatures lower than about
T
l
/2. Decomposition of austenite is one of the most important transformations in steels occurring over this temperature range. Therefore, an easy-to-use map was designed against these parameters to predict the weld microstructure.