01-12-2010 | Original Paper | Issue 9/2010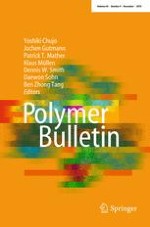 Thermally decomposable phosphonate ester polymer gels
Journal:
Authors:

Takayuki Kusunoki, Fumi Hamasaki, Kyoko Uemura, Takaomi Kobayashi
Abstract
A polymerizable dimethacryloyl vinylphosphonate (DMVP) was developed as a novel crosslinking agent by esterification of vinylphosphonic acid and methacryloyl chloride in the presence of triethylamine. Then, poly(DMVP) (PDMVP) was generated by bulk polymerization solution at 30, 45, and 80 °C in the presence of a radical initiator. The resultant PDMVP, polymerized at 45 and 80 °C, could be dissolved in acetone, water, and
N
-methylpyrrolidone. However, PDMVP obtained at 30 °C showed to be insoluble in such solvents and became a gel instead. It was found that the formed gel was soluble when heating due to hydrolysis of the ester bonds in the polymer. Evidence was presented showing the thermal decomposition behavior of the PDMVP gel, which showed an irreversible solid-to-liquid phase transition.