16-03-2019 | RESEARCH | Issue 6/2019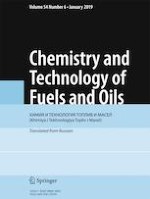 Thermodynamics of Hydrocarbon Synthesis Related to Methane Steam Reforming*
Authors:

D. M. Grigor'eva, F. G. Zhagfarov, M. V. Kulikova, A. M. Gyul'maliev
Important notes
*The original version of the article was revised: Due to a typesetting error, the last author name was inadvertently omitted.
Translated from
Khimiya i Tekhnologiya Topliv i Masel
, No. 6, pp. 28 –31, November –December, 2018.
An analysis is presented for thermodynamic aspects of the preparation of synthesis gas through methane conversion and the related synthesis of various classes of hydrocarbons. Methods of chemical thermodynamics were used to analyze the equilibrium composition of the system under given conditions. The thermodynamic study showed that the H2/CO ratio in methane conversion depends significantly both on the reaction temperature and pressure as well as on the nature and amount of oxidizer. The thermodynamic probability for the formation of various classes of compounds depending on the synthesis gas composition was calculated.