2021 | OriginalPaper | Chapter
7. Three Classic Contributions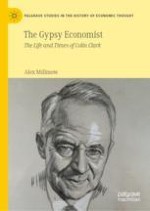 Read first chapter
Author: Alex Millmow
Publisher: Springer Singapore
Abstract
Despite occupying important official positions with the Queensland Government, Colin Clark published three outstanding pieces of economic research over a five year period.
A Critique of Russian Statistics
(1939) was the first comparative statistical estimation of the Soviet experiment. He confirmed that Russian national income per head had barely risen until the late 1930s. Russia was 'a poor and hungry country' and socialism had, on the evidence, made little difference. Clark's most definitive work
The Conditions of Economic Progress
(
1940a
) laid out the long-term essentials necessary for a country to achieve material progress. In doing so, he devised a means to measure the comparative real income per capita. Clark showed that the world was 'a wretchedly poor place' with a few developed countries producing most of the world's output. His third work
The Economics of 1960
(
1942
) used a basic econometric model to project the most probable course of world population, industrial development, prices, capital movements and interest rates until 1960. Given the increasing shortage of rural labour in many countries with attempts at industrialization, he predicted that the terms-of-trade would violently swing in favour of primary producing countries. The immediate post-war years would also be a period of an investment-led economic boom because of 'capital hunger'.