01-04-2021 | Issue 4/2021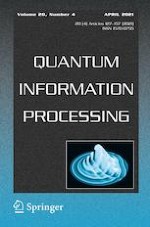 Three-party semi-quantum protocol for deterministic secure quantum dialogue based on GHZ states
Journal:
Authors:

Ri-Gui Zhou, Xiaoxue Zhang, Fengxin Li
Important notes
Publisher's Note
Springer Nature remains neutral with regard to jurisdictional claims in published maps and institutional affiliations.
Abstract
In this paper, we propose a deterministic secure three-party semi-quantum dialogue (SQD) protocol based on the GHZ states as the initial quantum resource. In the protocol, three communicants can obtain secret message between each other to realize a secure three-party dialogue, one of them has quantum capabilities and the other two have classical abilities. The information leakage problem is prevented in the proposed three-party SQD protocol by using the entangled correlation between three particles in the same GHZ state. In addition, under the premise of introducing decoy photons, the communicants utilize twice eavesdropping detection and a process similar to one-time key encryption to ensure that the SQD protocol can resist multiple types of attacks, such as intercept-measure-resend attack, flip attack, man-in-the-middle attack, Trojan horse attack and entangle-measure attack. Finally, the protocol only involves single-photon measurement, which reduces the participants' operations on the quantum superposition state and the demand for quantum devices.