01-09-2012 | Issue 3/2012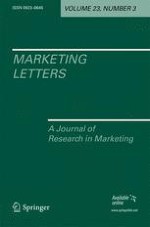 To divide or not to divide? The impact of partitioned pricing on the informational and sacrifice effects of price
Journal:
Authors:

Franziska Völckner, Alexander Rühle, Martin Spann
Abstract
Firms often partition a product's price into two mandatory parts (e.g., the base price of a mail-order DVD and the surcharge for shipping and handling) instead of charging one all-inclusive price. This study examines whether and to what extent partitioned pricing (compared to one all-inclusive price) influences the informational and sacrifice effects of price. We empirically show that partitioned pricing
oppositely
affects these two distinct roles of price: the informational effect of price (i.e., price as an indicator of quality) increases, while the sacrifice effect (i.e., price as a measure of sacrifice) becomes more negative. In product categories with substantial price–quality inferences, the positive impact of partitioned pricing on the informational effect can overcompensate for its negative impact on the sacrifice effect, making partitioned prices the preferable strategy.