21-10-2020 | BOOK REVIEW | Issue 4/2020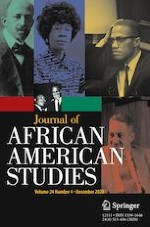 Todd-Breland, E. (2018). A Political Education: Black Politics and Education Reform in Chicago since the 1960s. Chapel Hill, NC: University of North Carolina Press. 344 pp. ISBN: 9781469646589 (Paperback)
Journal:
Author:

A. C. Nikolaidis
Important notes
Publisher's Note
Springer Nature remains neutral with regard to jurisdictional claims in published maps and institutional affiliations.
Abstract
In her recent book A
Political Education
, Elizabeth Todd-Breland tells the story of black education reform in Chicago since the modern civil rights movement. In doing so, she demonstrates how black educators and communities have ceaselessly fought against white supremacist structures that perpetuate racial and class disparities, and shows how their victories, though important, were often undermined by these same structures. More importantly, Todd-Breland uncovers the forgotten stories and contributions of black women educators and activists at the heart of these movements that were heretofore disregarded in favor of those of their male counterparts. Writing against patriarchal norms that historically sidestep women's contributions, Todd-Breland organizes her historical analysis around the stories of these women.