24-09-2016 | Issue 3/2017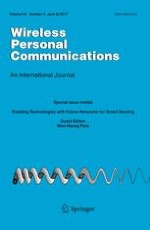 Topology Control Game Algorithm of Multi-performance Cooperative Optimization with Self-Maintaining for WSN
Journal:
Authors:

Hao-Ran Liu, Min-Jie Xin, Wei-Jing Liu, Bai Chen, Xiao-Chen Hao, Xi-Da Li, Xiao-Yue Ru
Important notes
Hao-Ran Liu and Min-Jie Xin are joint first authors. These authors contributed equally to this work.
Abstract
Wireless sensor network is the key technology to extend the covering area of Internet in the future. It has a range of application values. A network with a lot of good performance could meet more demands of practical applications. Therefore, topology control whose main goal is to prolong lifetime faces a new challenge. Although good link quality can't improve some performance such as robustness and sparseness, it could decrease the probability of data retransmission. So if links have good quality, the energy is saved and the delay is reduced. But most existing topology control optimization algorithms ignore the importance of link quality. Hence, a bi-directional link communication quality evaluation indicator is designed firstly. Then, connectivity, link weight, interference among nodes, equilibrium of surplus energy, node degree, the transmitting power of nodes and node's current surplus energy are integrated into utility function to structure a game model named MPOGM. Finally, on the basis of MPOGM, a topology control game algorithm of multi-performance cooperative optimization with self-maintaining (MPCOSM) is proposed. The theoretical analysis demonstrates that MPCOSM could converge to Pareto Optimal Nash Equilibrium. The simulation results show that MPCOSM could achieve the cooperative optimization of multiple performance.