2021 | OriginalPaper | Chapter
Torque Sensors for High Volume Production Applications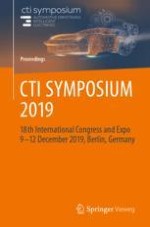 Read first chapter
Author: Julius Beck
Publisher: Springer Berlin Heidelberg
Abstract
Magnetoelastic sensors are the first solution that allows measuring torque and other forces economically so they can be integrated into high volume applications. The current status quo for force measurements - strain gauge type sensors - require extensive manual labor during application, fault susceptible telemetries and recalibration due to aging effects. This makes them suitable for use in test benches and prototype vehicles, rather than high volume production applications. Magnetoelastic sensors have many advantages that make them ideal for high volume production applications. The sensors have small space requirements, the sensing object (e.g. a driveshaft) does not need to be modified and there is no telemetry, making the technology truly non-contact. Magnetoelastic sensors have excellent performance characteristics, exceptional long-term stability and have been proven in many high volume applications for more than 10 years, including automotive (e.g. electronic power steering, anti-roll stabilization), consumer products (e.g. eBikes), and agricultural equipment (e.g. power take-off shaft).
The magnetoelastic effect states that a ferromagnetic material will change its magnetic properties when subjected to mechanical stress (e.g. due to an applied torque). A standard magnetoelastic sensor consists of two circumferential magnetization bands that are encoded into the shaft during production. Sensing coils placed around the shaft pick up changes in the magnetic field when torque is applied to the shaft, which is the sensor electronics converts into the output signal.
An almost completely automated production process and multiple large-scale manufacturing facilities around the world allow Methode Electronics to produce over three million sensor units per year, satisfying even the highest volume orders.