2019 | OriginalPaper | Chapter
16. Towards a Smart Metropolitan Regional Development—Spatial and Economic Design Strategies: Johannesburg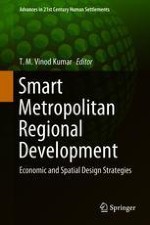 Read first chapter
Authors: Naledzani Mudau, Gora Mboup, Paida Mhangara, Mfaniseni Sihlongonyane
Publisher: Springer Singapore
Abstract
From a population of 26,303 in 1890 to 102,078 in 1896, to a population of 4.4 million in 2011, Johannesburg located in the Gauteng province, is the largest city in South Africa and is one of the 50 largest urban areas in the world. This has occurred in different paces, times and places in terms of numbers, urban form and structure (density distribution, and compactness). As a megacity, Johannesburg becomes more complex for its planning, design and management compared to a small city. For instance, elements of its urban form and structure as well as elements of transport infrastructures and, recently, elements of Information and Communication Technologies (ICT) will largely determine its accessibility. This accessibility determines to a large extent, the interaction between economic and spatial design strategies. Henceforth, this chapter is divided into six sections.
The first section
presents the "Conceptual framework of the Smart Metropolitan Regional Development" of the study;
The second section
reflects on the "Gauteng City region and Johannesburg in Time and Space";
The third section
focuses on the "Urban Accessibility and Mobility";
The fourth section
looks at "Smart Energy for Economic Development";
The fifth section
presents "Urbanization, Economic Growth and Metropolitan Regional Development"; and,
The sixth section
, based on the development of the previous sections, presents the "Spatial and Economic Design Strategies for a Smart Johannesburg Metropolitan Regional Development".