29-08-2019 | Issue 3/2021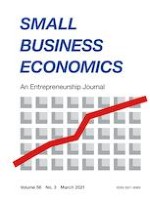 Towards sustainable entrepreneurial ecosystems: examining the effect of contextual factors on sustainable entrepreneurial activities in the sharing economy
Journal:
Authors:

Susanne Pankov, Vivek K. Velamuri, Dirk Schneckenberg
Important notes
Publisher's note
Springer Nature remains neutral with regard to jurisdictional claims in published maps and institutional affiliations.
Abstract
This paper seeks to expand our understanding of sustainable entrepreneurial ecosystems by investigating the interrelation between contextual factors and sustainable entrepreneurial activities of sharing ventures. While the sharing economy is considered as a potential pathway to a more sustainable society,; ambiguous activities of some sharing ventures call the credibility of sharing as a sustainable concept into question. In order to shed light on the underlying cause of the ambiguity, we conducted 37 in-depth interviews with founders and senior managers of sharing ventures. Our comparative analysis identifies two distinct sets of contextual factors, which influence their sustainable activities. The first set of contextual factors enhances sustainable activities by enforcing the adaptation of behavioral rules and by enabling the development of organizational capabilities. The second set of contextual factors restricts sustainable activities by impeding market penetration and by suppressing growth. We contribute to theorizing about sustainable entrepreneurial ecosystems by delineating the conjoint effect of contextual factors on sustainable activities. Furthermore, our results add insights into the controversial academic debate about the sustainability dimension in the sharing economy.