01-06-2015 | Report | Issue 4/2015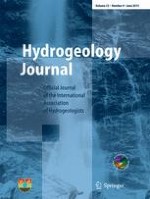 Traçadores químicos e isotópicos que indicam a interação águas subterrâneas/águas superficiais dentro da bacia hidrográfica de um lago boreal na Finlândia
Journal:
Authors:

Anne Rautio, Kirsti Korkka-Niemi
Important notes
Electronic supplementary material
The online version of this article (doi:
10.​1007/​s10040-015-1234-5
) contains supplementary material, which is available to authorized users.
Resumo
Isótopos estáveis (
δ
18
O,
δ
D), a concentração de sílica dissolvida (DSi) e a composição iónica principal foram usados para indicar a interação águas subterrâneas/águas superficiais entre os aquíferos, os rios e um lago na bacia hidrográfica do Lago Pyhäjärvi de alta latitude, na Finlândia. Diferenças significativas foram registadas na química da água entre as águas subterrâneas e superficiais, especialmente na composição do isótopo estável e nas concentrações de DSi, que poderiam ser utilizados como traçadores. Os dados de referência sobre padrões isotópicos e hidrogeoquímica no ciclo hidrológico foram fornecidos por uma pesquisa de monitorização de um ano nesta área de bacia hidrográfica em zona de neve. As proporções de águas subterrâneas nos rios, no lago interior e num campo de captação de águas subterrâneas foram calculadas usando isótopos estáveis e DSi. Dois rios afluentes tiveram diferenças distintas na composição química das suas águas. A DSi tem potencial como marcador no ambiente do rio, enquanto isótopos estáveis foram mais aplicáveis no ambiente de lago. Localmente, perto da linha de costa do lago, o efeito da descarga de águas subterrâneas na qualidade da água do lago pôde ser claramente observado. Além disso, a infiltração da água do lago no aquífero pode ser observada perto dos poços de bombeamento em terra. Essa infiltração apresenta um risco potencial para a qualidade da água dos poços de abastecimento. A amostragem frequente é necessária como parte da avaliação do nível de interação águas subterrâneas/águas superficiais em bacias em zonas de neve, a fim de estimar a magnitude da variação sazonal. Em estudos de interação água subterrânea/água superficial, o degelo da primavera e eventos de grande precipitação podem ser problemáticos, tanto em termos de amostragem, como na interpretação dos resultados.