01-08-2020 | Original Article | Issue 15/2020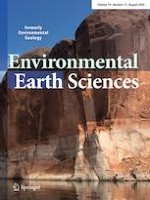 Trace element soil contamination from smelters in the Illawarra region, New South Wales, Australia
Journal:
Authors:

Yasaman Jafari, Brian G. Jones, Joanna C. Pacheco, Sultan Umoru
Important notes
Electronic supplementary material
Publisher's Note
Springer Nature remains neutral with regard to jurisdictional claims in published maps and institutional affiliations.
Abstract
This study investigated the regional distribution of trace elements in 395 soil samples in the vicinity of the industrial complex of Port Kembla, New South Wales, Australia, which comprises former lead and copper smelters, an integrated steelworks and associated industries. Total trace element concentrations in the soil samples showed the extent of contamination by Cu, Pb, Zn, Ni, As, Se, Sn and Sb was greatest in samples located close to the Port Kembla copper smelter stack and the Kanahooka lead smelter, indicating direct contamination due to anthropogenic activities. The mean enrichment factors for the eight trace elements ranged from 1 to 6 × background, but the maximum concentrations ranged from 15 to 78 × background. Soil samples from highly contaminated areas, that exceed the acceptable total trace element ranges in ANZECC and ARMCANZ sediment quality guidelines, pose a significant potential health risk and require further environmental assessment for bioavailability.