2005 | OriginalPaper | Chapter
Tractable Clones of Polynomials over Semigroups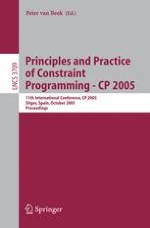 Read first chapter
Authors: Víctor Dalmau, Ricard Gavaldà, Pascal Tesson, Denis Thérien
Publisher: Springer Berlin Heidelberg
We contribute to the algebraic study of the complexity of constraint satisfaction problems. We give a new sufficient condition on a set of relations Γ over a domain
S
for the tractability of CSP(Γ): if
S
is a block-group (a particular class of semigroups) of exponent
ω
and Γ is a set of relations over
S
preserved by the operation defined by the polynomial
f
(
x
,
y
,
z
) =
xy
ω
− 1
z
over
S
, then CSP(Γ) is tractable. This theorem strictly improves on results of Feder and Vardi and Bulatov et al. and we demonstrate it by reproving an upper bound of Klíma et al.
We also investigate systematically the tractability of CSP(Γ) when Γ is a set of relations closed under operations that are all expressible as polynomials over a finite semigroup
S
. In particular, if
S
is a nilpotent group, we show that CSP(Γ) is tractable iff one of these polynomials defines a Malt'sev operation, and conjecture that this holds for all groups.