02-01-2021 | Regular Paper | Issue 2/2021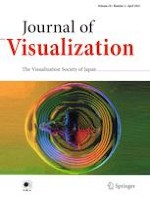 TrammelGraph: visual graph abstraction for comparison
Journal:
Authors:

Zhuochen Jin, Nan Chen, Yang Shi, Weihong Qian, Maoran Xu, Nan Cao
Important notes
Electronic supplementary material
Publisher's Note
Springer Nature remains neutral with regard to jurisdictional claims in published maps and institutional affiliations.
Abstract
Network data, represented by graph-based structures, are used in a variety of applications such as social networks and disease complication networks. A crucial task in many applications is graph comparison, with the goal of understanding the structural differences between pairs of graphs. However, traditional graph visualization techniques, node-link diagrams, and adjacency matrices are not intrinsically designed for comparison tasks. In this paper, we present TrammelGraph, a novel visual graph abstraction technique for graph comparison. TrammelGraph uses graph embedding and node alignment methods to create a map-based representation that eliminates visual clutter and thus facilities graph comparison. The design results in a planar graph with a regularly-spaced, crossing-free layout that helps users identify high-level topological information for graph comparison tasks. To evaluate the effectiveness of TrammelGraph, we conducted a controlled user study with 20 participants that compares TrammelGraph with node-link diagrams and adjacency matrices on a variety of common graph comparison tasks. We also conducted an expert interview with a physician using the MIMIC dataset. Both the quantitative and qualitative results from the study and interview highlighted the key strengths of TrammelGraph as a tool for visual graph comparison.
Graphic abstract
×