14-11-2016 | Original Paper: Sol-gel and hybrid materials for energy, environment and building applications | Issue 3/2017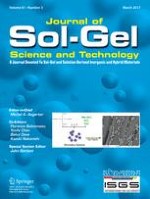 Transesterification of soybean oil for biodiesel production over CaAlSi mixed oxide nanoparticles
Authors:

Faezeh Farzaneh, Bahareh Dashtipour, Elnaz Rashtizadeh
Important notes
Electronic supplementary material
The online version of this article (doi:
10.​1007/​s10971-016-4253-3
) contains supplementary material, which is available to authorized users.
Abstract
CaAlSi mixed metal oxide nanoparticles with formula Ca2Al2SiO7 and CaAl2O4 (with molar ratio of 70:30) was prepared by sol–gel method and used as a basic heterogeneous catalyst for transesterification of soybean oil with methanol to methyl esters (biodiesel). The catalyst was characterized using X-ray diffraction, scanning electron microscope, Fouier Transform Infrared, and Termal Gravimetric Analysis techniques. Effect of important reaction parameters such as methanol to oil molar ratio, reaction time, and amount of catalyst were examined. It was found that reaction of methanol and soybean oil with the molar ratio of 30 in the presence of 6 % catalyst (based on soybean oil weight) affords biodiesel almost quantitatively at 60 °C within 6 h. The catalyst can be easily recovered and reused for four cycles without significant loosing activity.
Graphical Abstract