31-01-2019 | Original Research | Issue 5/2019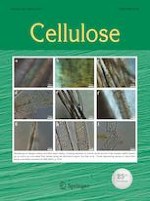 Transparent konjac glucomannan/cellulose nanofibril composite films with improved mechanical properties and thermal stability
Journal:
Authors:

Jinyu Wang, Xin Chen, Chenggang Zhang, Abdul Rehman Akbar, Zhuqun Shi, Quanling Yang, Chuanxi Xiong
Important notes
Publisher's Note
Springer Nature remains neutral with regard to jurisdictional claims in published maps and institutional affiliations.
Abstract
Development of renewable, biodegradable and biocompatible high-performance biomass materials is in great demand for the creation of a low-carbon society. Here, a series of konjac glucomannan (KGM) nanocomposite films reinforced by 2, 2, 6, 6-tetramethylpiperidine-1-oxyl (TEMPO)-oxidized cellulose nanofibrils (TOCNs) were fabricated from aqueous system by casting pathway. The composites exhibited nanolayered structure and intermolecular hydrogen bonds formed between KGM and TOCN, resulting in their good compatibility. Moreover, the incorporation of TOCN enhanced the mechanical properties of KGM significantly. Particularly, with an increase of TOCN content from 0 to 20 wt%, the tensile strength and Young's modulus of the composites increased from 59 MPa and 1.18 GPa to 180 MPa and 2.51 GPa, respectively; the elongation at break reached a maximum of 42.9% with 10 wt% TOCN addition, much higher than 25.6% of the neat KGM film. In addition, the composites also possessed excellent transparency and thermal stability. These biomass-based nanocomposite films are promising in the field of high-performance packaging materials.
Graphical abstract
×