Published in: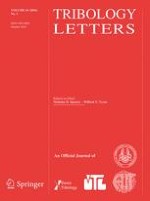 01-10-2016 | Original Paper
Tribological Investigation of Two Different Layered Zirconium Phosphates as Grease Additives Under Reciprocating Sliding Test
Published in: Tribology Letters | Issue 1/2016
Log in
Abstract
The tribological properties of α-Zr(HPO4)·H2O and Cu(OH)2Zr(HPO4)2·2H2O (α-ZrP and Cu-α-ZrP, respectively) were investigated in lithium grease by using an optimol SRV-V oscillating reciprocating friction and wear tester (SRV). α-ZrP had excellent anti-wear and friction-reducing properties regardless of the applied load, frequency, and test duration. The applied load for α-ZrP reached 600 N, and the corresponding friction coefficient was 0.082. At 60 Hz, the wear volume rate was 11.16 × 10−9 mm3/Nm. The tribological properties of Cu-α-ZrP were dependent on the test conditions, especially at higher frequency. The α-ZrP worn steel surfaces were smooth and shallow as indicated from scanning electron microscopy and a three-dimensional non-contact surface mapping profiler. Related elements were detected by energy-dispersive X-ray spectroscopy on the rubbed surfaces. A boundary solid film may form on the worn surfaces after friction tests. In reciprocating mode, α-ZrP stuck on the contacting surfaces, which enabled it to form a stable solid lubricant film more effectively than Cu-α-ZrP. The crystal structure may be important for film strength under high loads, especially at high speed.