2021 | OriginalPaper | Chapter
Triple Wet Clutch e-Module for P2 Hybridization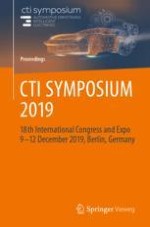 Read first chapter
Architecture and Technical Description of a Triple Wet Clutch Unit and the Related Active and Passive Clutch and Shift Actuation System
Authors: Olivier Simon, Wilhelm Heubner
Publisher: Springer Berlin Heidelberg
Abstract
Bei P2-Hybridarchitekturen haben integrierte Lösungen von Triple Wet Clutches mit effizienten Aktuierungssystemen bei mehreren OEM-Projekten einen hohen Stellenwert. Insbesondere bei DHT- oder Hybrid-FWD-Architekturen, bei denen es um die Abmessungen in axialer Richtung geht, bietet die Integration der Trennkupplung zwischen ICE und Getriebe (C0) in ein Triple Wet Clutch Modul (TWC) eine intelligente Designlösung.
Das Papier beschreibt verschiedene Architekturen von TWC mit Zentraleinrückern (CSC) und integrierten Betätigungskolben mit Schwerpunkt auf P2-Offline-Hybridarchitekturen und den damit verbundenen Vor- und Nachteilen.
Der Beitrag beschreibt auch ein innovatives Betätigungssystem des TWC Moduls, das auch weitere Getriebefunktionen wie Parksperre und Schaltzylinder betätigt. Das Betätigungssystem ist eine Innovation von Valeo, die auf die Bedürfnisse der DHTs zugeschnitten wurde. Es kann drei Kupplungen betätigen und die Schaltung der Gänge und Ansteuerung des Parksperrzylinders durchführen.
Moderne DCTs und DHTs verwenden so genannte "On-Demand"-Aktuierungsysteme, um die ständigen Verluste der zentralen Powerpacks zu vermeiden, die durch ihr konstant hohes Druckniveau und den Leckagen in den Steuerventilen entstehen.
Die hydraulische Betätigung der Kupplungen und Zylinder bringt eine hohe Leistungsdichte und damit Vorteile im gesamten Aufbau des Getriebes. Der Schwerpunkt der Entwicklungsarbeit liegt auf niedrigem Stromverbrauch, geringem Gewicht, kleinen Einbauräumen, die frei positioniert werden können, und attraktiven Preisen. Ein geschlossener Ölkreislauf mit eigenem Ölbehälter ermöglicht eine lebenslange Befüllung und freie Wahl des Schmieröls.
Am Ende des Papiers steht die Beschreibung der Systemarchitektur einschließlich der Software.
In case of P2 hybrid architectures, integrated solutions of Triple Wet Clutches with efficient actuation systems are having a big attention on several OEM projects. Efficient ways for hybridization can be achieved either using existing dual clutches gearboxes, either using dedicated hybrid transmissions (DHT). In those cases the packaging constraints in axial direction are at stake, particularly on FWD applications. The integration of the disconnecting clutch between ICE and gearbox (C0) inside a the Triple Wet Clutch (TWC) is providing smart design solution. The paper will describe different architectures of TWC with Clutch Slave Cylinders (CSC) and piston type actuation technologies focusing on P2 Off-line hybrid architectures, and their associated advantages and drawbacks.
The paper will also describe an innovative actuation system of the TWC, managing also some gearbox functions as park lock and gear shift cylinders. The actuation system is a Valeo innovation which considers the needs of DHTs. It can actuate three clutches and operate the shifting of the gears and park lock cylinders. Modern DCTs and DHTs use so called "on-demand" actuation systems to avoid the constant losses of central power packs, which are generated by their constant high pressure level and leakages in the spool valves. The hydraulically actuation of the clutches and shifters brings a high power density and therefore advantages in the gearbox packaging. The focus of the development work is on low power consumption, low weight, small packaging free in positioning, and attractive pricing. A closed oil circle with an own oil reservoir allows lifetime filling and free choice of the lubrication oil. A description of global system architecture including software will be described at the end of the paper.