Published in: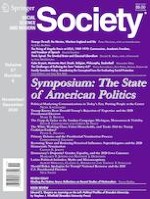 01-12-2020 | Symposium – The State of American Politics
Trump Knows Best: Donald Trump's Rejection of Expertise and the 2020 Presidential Election
Published in: Society | Issue 6/2020
Login to get access
Abstract
Education level—often referred to as the "diploma divide"—has been implicated as one of the key cleavages in the 2016 presidential election. This piece explores this division over time, along with the most common explanations of the education cleavage in 2016, class and racial resentment. Voters' views on the value of expertise are added as a possible explanation of the 2016 electoral divide by education level.