01-04-2012 | Issue 2/2012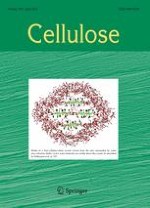 Tryptophan-based peptides grafted onto oxidized nanocellulose
Journal:
Authors:

Saïd Barazzouk, Claude Daneault
Abstract
Oxidized nanocellulose (ONC) have been synthesized and grafted with tryptophan-based peptides of varying lengths using a two step coupling method. The ONC was first activated by
N
-ethyl-
N
′-(3-dimethylaminopropyl) carbodiimide hydrochloride, forming a stable active ester in the presence of
N
-hydroxysuccinimide. Then, the active ester was reacted with the amino groups of the peptide forming an amide bond between ONC and peptide. Using this method, the intermolecular connection of Trp-based peptides (Trp-Ps) was avoided and uniform coupling of peptides on ONC was achieved. The coupling reaction was very fast in mild conditions and without alteration of the polysaccharide. The obtained products (ONC-Trp-Ps) were characterized by transmission electron microscopy and by different spectroscopic techniques.