2012 | OriginalPaper | Chapter
4. Tutorial Guideline VDI 3830: Damping of Materials and Members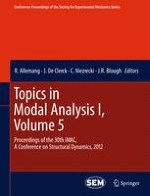 Read first chapter
Author: Lothar Gaul
Publisher: Springer New York
Abstract
Damping in mechanical systems is understood to be the irreversible transition of mechanical energy into other forms of energy as found in time-dependent processes. Damping is mostly associated with the change of mechanical energy into thermal energy. Damping can also be caused by releasing energy into a surrounding medium. Electromagnetic and piezoelectric energy conversion can also give rise to damping if the energy converted is not returned to the mechanical system.
The tutorial classifies damping phenomena, explains their physical cause and provides phenomenological descriptions starting from the level of constitutive equations with parameters, that need to be identified from experimental techniques. The step from material properties to members with damping properties is outlined. Damping in assemblies such as laminated members, damping in structural joints, damping due to fluids and damping by squeezing are prescribed. Models for damped structures are provided by the Finite Element Method and the Boundary Element Method.
Experimental techniques for the determination of damping characteristics including Experimental Modal Analysis and experimental techniques for the damping measurement of subsoil are described.
The tutorial incorporates the Guideline VDI 3830 "Damping of Materials and Members" and points out by citing 5 peer reviewed journal articles written by the tutor L. Gaul and his coworkers, where progress in damping description has been achieved after the Guideline was finished.
The practical application of damping description is provided by the design of turbogenerators in which the tutor was involved. It includes to distinguish between internal and external damping and the difference in stability of a rotor. Contact-surface damping is considered between shrink connections of shaft and disc, as well as between disc and blades. Damping in journal bearings is described. Interface damping in bolted joints split into microslip and macroslip behavior between the engine housing and the super plate of a turbogenerator frame foundation is modeled and compared to material damping of concrete and steel frame foundations. Finally the radiation (geometrical) damping caused by waves emanating from vibrating base plate into the subsoil by longitudinal and transverse body waves and Rayleigh surface waves are considered.