Published in: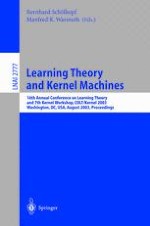 2003 | OriginalPaper | Chapter
Tutorial: Learning Topics in Game-Theoretic Decision Making
The tutorial will cover some topics of recent interest in AI and economics concerning design making in a computational game-theory framework. It will highlight areas in which computational learning theory has played a role and could play a greater role in the future. Covered areas include recent representational and algorithmic advances, stochastic games and reinforcement learning, no regret algorithms, and the role of various equilibrium concepts.