19-03-2020 | Original Paper | Issue 2/2021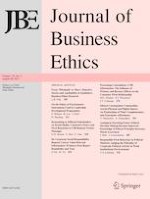 Two Wrongs Make a 'Right'? Exploring the Ethical Calculus of Earnings Management Before Large Labor Dismissals
Journal:
Authors:

Ionela Andreicovici, Nava Cohen, Silvia Ferramosca, Alessandro Ghio
Important notes
Publisher's Note
Springer Nature remains neutral with regard to jurisdictional claims in published maps and institutional affiliations.
Abstract
This paper examines whether firms strategically legitimize large labor dismissals (LLDs) by performing
ex-ante
downward earnings management. We further assess whether the effect is larger under stakeholder pressure and whether these practices influence the external perception of firms' behavior. As laying off employees without an economic reason is perceived as a breach of the social contract, stakeholders pressure firms to provide economic justification for LLDs. We argue that firms strategically legitimize LLDs by artificially worsening their financial performance through downward earnings management. From a sample of European listed firms for the period 1998–2014, using a propensity score matching model to control for differences in observable characteristics between LLD and non-LLD firms, we find that firms manage their earnings downward in the year prior to LLDs. These results are more pronounced in the presence of high stakeholder pressure. As such, firms with (1) stronger trade unions, (2) higher visibility, (3) stricter employment protection legislation, and (4) more stakeholder-oriented legal environments have stronger incentives to manage earnings downward before LLDs. Finally, we document that downward earnings management prior to LLDs is effective at legitimizing LLDs, offsetting the negative external perceptions of firms in the aftermath of LLDs. This study contributes to the business ethics literature by identifying unintended consequences of stakeholder pressure around LLDs. It also brings important empirical insights into how ethically questionable decisions are strategically legitimized through further unethical practices.