2013 | OriginalPaper | Chapter
Ultra-supercritical (USC) Technology—The Best Practical and Economic Way to Reduce CO2 Emissions from Coal Fired Power Plants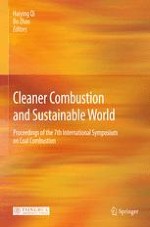 Read first chapter
Author: Jianxiong Mao
Publisher: Springer Berlin Heidelberg
Abstract
China is the largest coal producer and consumer with largest coal power capacity in the world. By the end of 2010, the total installed power capacity in China was 962,190 MWe, in which coal fired power capacity was 706,630 MWe, accounting for over 73.4%. China has been the largest CO2 emission country as well and its huge coal power capacity is the largest CO2 emission source. How does China reduce its CO2 emissions from coal fired power plants is an austere challenge now we are facing.
How does China reduce its CO2 emissions from coal fired power plants? There are three ways to reduce CO2 emissions from coal fired power plants: (1) carbon capture and storage (CCS); (2) co-firing biomass with coal; (3) much improvement of efficiency. For the first option of CCS, the technology is still under development and there are still several uncertainties today to be widely used for coal fired power plants in the short term. For the second option of biomass co-firing, it can reduce CO2 emissions in a way, but it is difficult to implement it in China without strong support of incentive policy. Therefore, the third option of improvement of efficiency is the only but also the best and feasible economic option for China to much reduce CO2 emissions from coal fired power plants.
This paper will discuss how China to take a active policy to strongly promote the application of supercritical (SC)/Ultra supercritical (USC) technology. Only in 4 years from 2007 to 2010, ordered capacity of coal fired SC/USC units was 482 units with installed capacity of 230,060 MWe, in which, 1,000 MWe USC with 600°C steam parameters was almost 100 units with 100,000 MWe in which 33 units have been in operation. Today, China has been a country with the largest SC/USC units and capacity. The fast application of SC/USC units for coal fired power plants has resulted in energy saving and reduction of emissions. The average coal consumption in China reduced from 366 gce/kWh in 2006 reduced to 335 gce/kWh in 2010, by which coal saving was 240 million tons and the reduction of CO2 emission was over 400 million tons.
Today, China is going to develop advanced USC with steam temperature of 700°C to reach net efficiency up to over 50%. This paper will introduce a program that before the technology of 700°C USC is available, the development of USC in a special way is underway to use 600°C material and investment for a 1,350 MWe USC unit with net efficiency of >48%, a demonstration plant will be built and hopefully which will be in operation before 2015. By 2020, coal fired power capacity will be 960,000 MWe in China, in which the majority of the capacity will be high efficiency USC units. This will greatly contribute to the remarkable reduction of CO2 emissions for China.