01-01-2015 | Issue 1/2015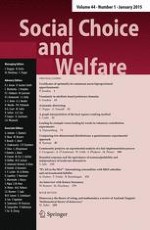 Unanimity in attribute-based preference domains
Journal:
Author:

Sidartha Gordon
Important notes
I am thankful to Hans Bandelt, Biung-Ghi Ju, Jim Schummer and William Thomson for helpful conversations and comments and to two anonymous referees for comments.
Abstract
We provide several characterizations of unanimity decision rules, in a public choice model where preferences are constrained by attributes possessed by the alternatives (Nehring and Puppe, Games Econ Behavior 59:132–153,
2007a
; Nehring and Puppe, J Econ Theory 135:269–305,
2007b
). Solidarity conditions require that when some parameters of the economy change, the agents whose parameters are kept fixed either all weakly lose or they all weakly win.
Population-monotonicity
(Thomson, Math Oper Res 8:319–326,
1983a
; Thomson, J Econ Theory 31:211–226,
1983b
) applies to the arrival and departure of agents, while
replacement-domination
(Moulin, Q J Econ 102:769–783,
1987
) applies to changes in preferences. We show that either solidarity property is compatible with
voter-sovereignty
and
strategy-proofness
if and only if the attribute space is quasi-median (Nehring, Social aggregation without veto, Mimeo,
2004
), and with
Pareto-efficiency
if and only if the attribute space is a tree. Each of these combinations characterizes unanimity.