15-11-2017 | Issue 3/2018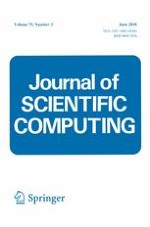 Unbalanced and Partial
\(L_1\)

Monge–Kantorovich Problem: A Scalable Parallel First-Order Method
Journal:
Authors:

Ernest K. Ryu, Wuchen Li, Penghang Yin, Stanley Osher
Important notes
This work is partially supported by ONR Grants N000141410683, N000141210838 and DOE Grant DE-SC00183838.
Abstract
We propose a new algorithm to solve the unbalanced and partial
\(L_1\)
-Monge–Kantorovich problems. The proposed method is a first-order primal-dual method that is scalable and parallel. The method's iterations are conceptually simple, computationally cheap, and easy to parallelize. We provide several numerical examples solved on a CUDA GPU, which demonstrate the method's practical effectiveness.