08-05-2021 | Original Paper | Issue 4/2021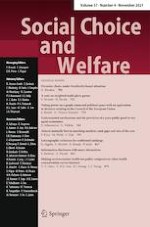 Undominated mechanisms and the provision of a pure public good in two agent economies.
Journal:
Authors:

Efthymios Athanasiou, Giacomo Valletta
Important notes
Yves Sprumont was implicated in the early stages of this project. The impact of his insightful guidance cannot be overstated. We are also grateful to two anonymous referees and to the associate editor for very detailed comments and remarks.
Publisher's Note
Springer Nature remains neutral with regard to jurisdictional claims in published maps and institutional affiliations.
Abstract
We revisit the problem of providing a pure public good in economies involving two agents, under the assumption that preferences are quasilinear. We characterize the class of strategy-proof, anonymous and feasible mechanisms that are not dominated by another strategy-proof, anonymous and feasible mechanism. Mechanisms that decide, at some profiles of preferences, against the alternative that is preferred by all agents are members of this class. On the contrary, Groves mechanisms, with the sole exception of the Pivotal mechanism, are not. Finally, the only budget-balanced mechanism that belongs to this class is the Unanimity mechanism.