Published in: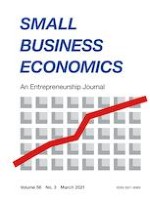 Open Access 11-11-2019
University-linked programmes for sustainable entrepreneurship and regional development: how and with what impact?
Published in: Small Business Economics | Issue 3/2021
Abstract
State universities are increasingly being transformed from institutions with traditional teaching and research responsibilities to have a third, societal role in sustainable regional and economic development. In doing so, universities support knowledge spillovers to improve sustainable entrepreneurial ecosystems that benefit economic revitalization or further development of regions. At the same time they promote stakeholder involvement in crucial governance processes at the regional level. Based on a comparative case study design building on three cases in Germany, our research analyses these interdependencies focussing on university-linked support programmes for sustainable entrepreneurship and the effects on sustainable regional development. Our findings provide a nuanced view clarifying the different roles universities have, how knowledge spillovers are created, and what outputs, outcomes, and effects are realized at the regional level and beyond. Specifically, we demonstrate that depending on the regional context, different configurations, pathways, and intervention points of universities may equally improve sustainable entrepreneurial ecosystems.
Publisher's note
Springer Nature remains neutral with regard to jurisdictional claims in published maps and institutional affiliations.
2

Literature review and conceptual considerations
3

Method
3.1

Research design and sample

Our research uses a multiple embedded case study design (Eisenhardt

1989

) following literal replication (Yin

2003

). Two units of analysis are applied: the support programmes and the resulting ventures (outcomes) with their impacts for the region. Overall, we selected three cases (Table

2

) according to the following criteria:
All are located in the same country to control for the national institutional context. We chose Germany, because sustainability is often valued highly and because it has established extensive support structures for entrepreneurs and many successful sustainable entrepreneurship-related programmes over the last two decades (Fichter et al.

2016

; Bank et al.

2017

). To increase comparability even further, this paper studies three cases from the two largest German states—Bavaria and Lower Saxony—which are the most similar in the federal context of Germany. Universities in these two states were screened for involvement in well-known entrepreneurial sustainability initiatives while case selection continued until theoretical saturation was achieved to find distinct cases for further analysis.

Programmes have been established for at least 10 years and all are pioneers on the European or global levels (e.g. MBA Sustainability Management as the world's first MBA programme with a sustainability focus; UTG Augsburg was the first sustainability-specific incubator in Europe, Eco-Venturing was the first course worldwide with students developing sustainability-orientated business concepts in cooperation with business partners aiming to promote tangible green business start-ups). This sufficiently long case history allows us to assess the impacts on sustainable regional development.

All cases have been publicly acknowledged to be successful (e.g. through receiving awards or high levels of funding or visibility).

In all cases, the university (possibly in combination with other research-oriented institutions) played a major role in facilitating sustainable entrepreneurship.

The researchers had very good data access (Yin

2003

).
Table 2
Case characteristics
| Case | Institutions/university | Programme start | Type of programme |
| --- | --- | --- | --- |
| UTG Augsburg | State of Bavaria, Chambers, University of Augsburg | 1998 | Incubation |
| MBA Sustainability Mana gement | Leuphana University Lüneburg | 2003 | Education (full-degree programme) |
| Eco-Venturing | Carl von Ossietzky University Oldenburg | 2009 | Entrepreneurship education (single module), start-up facilitation |
Overall, our cases can be classified as 'unique' (Yin
2003
) as they cover university-based or related facilitation of sustainable entrepreneurship in long established (successful) pioneer programmes. The cases are also 'revelatory', because the unusually good access by the researchers facilitated the study of previously unaddressed aspects (Yin
2003
). The unusual level of access stems from the fact that in all cases, researchers have been involved either in the programme's foundation and operation, or in research on and consultation with the case entity.
Despite the similarities described above, we also deliberately encouraged diversity among the cases to better reflect the nature of the present exploratory work that aims to deliver a better understanding of a new phenomenon. As shown in Table
2
(in chronological order), we included different types of programmes that also cover different phases in the entrepreneurial process (Shane and Eckhardt
2003
). Covering such heterogeneity has intrinsic value as it represents the diversity of approaches taken by institutions to facilitate sustainable entrepreneurship. Moreover, despite their differences in type, the nature of the outcomes highlighted in our analysis (i.e. the creation of sustainable ventures) is comparable (please note that we are not primarily interested in comparing the quantity of outcomes/ventures, which certainly differ between more conventional incubators and teaching-based programmes).
3.2

Data collection and analysis strategy

We collected data from multiple sources covering both secondary and primary data. The secondary data on the selected support programmes (e.g. Hesselbarth et al.

2015

; Wagner and Lutz

2012

; Fichter et al.

2016

) helped us to obtain both a broad understanding of the programmes and details of the programme design, participation and outcomes. Primary data covered participant observation, workshops, interviews, and desk research. We also collected data at multiple points in time (longitudinal case). Overall, this permitted the extensive triangulation of information that was supplemented with informal data, wherever possible. Following Miles and Huberman (

1994

), we stopped collecting further data when new aspects on the issues captured by our research questions could no longer be identified. Table

3

provides an overview of this process and the resulting data sources.
Case 1: UTG Augsburg

Case 2: MBA Sustaina bility Management

Case 3: Eco-Venturing

Secondary data

- Presentation on environmental technology incubation at the centre (Hehl

2011

)

- Evaluation report on environmental technology and energy in Bavaria (Anon.

2011

)

- Alumni survey on skills and career path (Hesselbarth and Schaltegger

2014

)

- Programme foundation and institutional change (Lee and Schaltegger

2014

)

- Programme's teaching pedagogies and skill development (Hesselbarth et al.

2015

)

- Case study analysis of university support structures and programmes (Geier and Fichter

2015

)

- Interview with responsible teaching personnel (Fichter et al.

2016

)

Primary data:

- Desk research and internal data

- Programme websites

- Venture websites and media contributions

- Programme websites

- Venture websites and media contributions

- Student database, teaching evaluations, alumni surveys

- Programme websites

- Venture websites and media contributions

- Student, alumni and start-up database, venture survival analysis and impact evaluation

- Participant observation, workshops, and interviews

- Interview with past centre manager

- Interviews with nine start-ups from the centre

- Interview with current centre manager

- 520 days of programme development

-> 600 days of own teaching

- 100 days of further programme participation

- Two workshops with sustainable ventures

- 80 days of programme development

- 120 days of teaching

- 240 days of student coaching

- Five interviews with participating students and start-up-entrepreneurs
As suggested by Eisenhardt (
1989
), the data analysis was carried out as an iterative process between literature and data. We started with broad concepts from literature that we found informative for the case study focus (e.g. theory of change). We then collected single case descriptions for all our cases. Frequent group discussions within the research team helped to develop a common understanding of both deductive and emerging categories. Following this, we carried out a comparative analysis across cases, which according to Glaser and Strauss (
1967
) is appropriate when theoretical saturation is reached. In the remainder of the paper, we reflect this process by initially introducing in the following section the individual cases.
4

Case studies

This section introduces the three cases of support programmes and related venture creations that form the basis for the detailed analysis. Each case description includes information on the context of the programme and its relevant inputs, outputs, outcomes and impacts. To provide further insights into and evidence of impacts generated through the three cases, we then scrutinize one start-up for each case to clarify how the programmes led to or supported the founding activities of specific entrepreneurial individuals.
4.1

Case 1: UTG Augsburg
4.1.1

University-linked support programme

In 2006, the state of Bavaria collaborated with local universities to support certain future technology domains. The aim was to employ a cluster programme involving networking and cross-linking of technology-oriented and technology-specific business incubators and technology centres. One of the domains focussed upon was environmental technology. The concept thus built on the cluster logic and agglomeration economies (Marshall

1920

; Porter et al.

2010

). The UTG Augsburg was a core element in the cluster programme and the only business incubator specializing in environmental technology supported by the Bavarian state. It was set up in 1998 and in fact was the only incubator in the EU with such a specialization at that time (Hehl

2010

). The major mobilization of resources was through leveraging funds made available through the Bavarian cluster programme, which provided a window of opportunity and a rare chance to develop a dedicated incubator. Furthermore, prior knowledge and experience resided in the local universities and a local research institute, the Bavarian Institute for Waste Research.

The UTG mainly covers the innovation system functions of experimentation, incubation, resource mobilization and networking. The latter is extended through the interaction of partners that also provide extended support functions. Specifically, the 'Umweltcluster Bayern' (of which the UTG is a main member) is itself a member of a Europe-wide network of environmental technology clusters named 'EcoCluP', which incorporates over 3500 firms and 430 research institutions from ten EU countries (Anon.

2011

). Furthermore, the UTG is a major partner in the 'Kompetenzzentrum Umwelt e. V.' (abbreviated to KUMAS, a network of Bavarian environmental technology firms headquartered at the UTG). The UTG hosts an average of 40 start-up firms for an average of 4.7 years, during which time they benefit from below-average rental rates and flexible contract conditions among other cost advantages.

Assessing the regional sustainability impact of the innovations realized by the start-ups that have been in the incubator involves evaluating environmental contributions. The process includes life-cycle assessments that individual entrepreneurs in the incubator already use as a communication tool. Economically and socially the regional impact is mainly generated through around 200 jobs created and over 30 patents granted in the 140 firms incubated since 1998 (Hehl

2011

; Anon

2018

).
4.1.2

Exemplary new venture

The start-up Corrmoran was founded as a University of Augsburg spinoff and joined the UTG in 2008. The four founders (three of whom came from the university) initially also received support by the university in the form of an EXIST (German federal initiative for academic start-ups) grant for developing their venture's business plan. Corrmoran developed a new sensor device, which made it possible to measure the corrosion in large-scale firing plants online during operation. The initial development of the device resulted from a research project at the university supported by the European Regional Development Fund. Corrosion of heat exchangers is one of the main factors limiting energy efficiency and creates huge maintenance costs in large-scale firing plants. Early detection of corrosion issues using Corrmoran's sensor can improve energy efficiency and deliver cost savings, which are likely to make a significant impact on regional and global sustainability. Corrmoran has also won several business plan competitions such as the regional "BPWSchwaben" in 2008 and the second stage of the Munich Business Plan Competition (MBPW) in 2009, and has placed second in the Marathon category of the third stage of the MBPW. The environmental credentials of Corrmoran's product have been recognized by the project becoming one of the three official model projects which represent the best environmental competencies in Bavaria. The technology developed by Corrmoran has high potential as certified by the fact that the "High-Tech Gründerfonds" (a public-private partnership between the German Government and several leading German multinationals from different industries) and also Bayern Kapital (an organization managing the seed funds of the State of Bavaria) provided substantial venture capital to the start-up. In 2010, the start-up already had 14 employees and 14 customers across Europe, and by 2014 Bayern Kapital decided that Corrmoran did not require further financing. Whilst the initial impulse for the venture came directly out of the university (i.e. already at this stage a beneficial and unique role of the university can be identified in that the founders met at the university through a research project carried out at the university), the UTG made crucial contributions in the later venture phases. Specifically, Corrmoran benefited from the UTG by having access to a common laboratory of the highest standard to refine and test the technology. Furthermore, the UTG provided an environment supporting intensive exchanges with firms working in very similar market contexts. Corrmoran could capitalize on this, which was significant in helping the venture develop its own entrepreneurial processes. Because of this, the venture could build on the expertise of other firms, as well as accessing their business networks, in a unique way that would not have been possible without the UTG.
4.2

Case 2: MBA sustainability management
4.2.1

University-linked support programme

The motivation to set up the world's first MBA programme in corporate sustainability management at the Centre for Sustainability Management (CSM) was to educate "change agents for corporate sustainability". The need for this new programme was based on the perceived lack of impact of sustainable management education, as students took a long time to get into positions of influence or lacked sufficient sustainability knowledge.

Three inputs were considered essential for the programme: financial inputs for establishing and maintaining it, the development of teaching materials and the involvement of lecturers. The programme content was originally financed with EU support funding, and there was no funding from the university. The programme was founded in a rather isolated manner and encountered little resistance owing to a gap between the responsibilities and competence areas of the relevant faculties. That situation provided the necessary organizational space to innovate (Lee and Schaltegger

2014

). The founders of the programme worked on the development of teaching materials for 2 years until they had material for around 1800 lecture hours to support a 1-year full time (or 2-year part-time) programme with on-campus lectures and e-learning–based distance courses.

External lecturers were acquired with the help of a group of four PhD students at the Centre. The curriculum was discussed with representatives from the corporate world and the programme was accredited 7 weeks before it commenced. The programme's success is largely the result of the very high levels of personal engagement of the founders and the research team at CSM involved in the MBA teaching and student service. To reduce bureaucratic obstacles in the general university administration, most administrative processes are managed directly at CSM. The curriculum has been continuously improved and enlarged since inception (Hesselbarth et al.

2015

). The programme was developed as a continuous education blended learning programme (and thus did not affect the existing on-campus programmes). The MBA curriculum covers classes in sustainability management, specialized functions (e.g. sustainable production and sustainable strategy) as well as dedicated courses on sustainable entrepreneurship and sustainability innovation.

A unique feature of the programme is the project-based learning in which the entire cohort solves sustainability-related problems during a 5-day on-site placement with a business partner. The programme started in 2003 with 27 students and now about 40 students are admitted annually. Approximately 450 students have graduated from the MBA programme, and a large alumni network with approximately 600 people (graduates, lecturers and students) has been established with a broad own network programme of regional meetings and other activities (Hesselbarth and Schaltegger

2014

). Due to the distance learning and part-time nature of the programme, the part-time students can directly apply new skills to their jobs and transfer their developed competencies into their professional working environment. The possibility for immediate and continuous application and trial of new knowledge increases both the motivation of the students and their real-world impact during their studies. Some students have founded their own sustainable businesses for example in the solar industry, consulting, IT and manufacturing of energy-saving devices with the related potential impact on the transformation of industries.
4.2.2

Exemplary new venture

The start-up IntelliSolar was founded in 2006 by a former student of the MBA Sustainability Management. The company now has more than 30 employees and plans, develops and invests in semi-large photovoltaic (PV) systems on industrial sites (larger than 200 m2 but smaller than large photovoltaic parks). As a general contractor, the start-up delivers projects for both small and large companies and for private investors who either have roof space or want to invest in PV. The one-stop-shop principle is the main offer of IntelliSolar as a general contractor: the start-up takes responsibility for the project and connects all actors dealing with the different steps of planning, installing and maintaining PV systems. IntelliSolar takes care of all the planning steps from the vision to installation and grid connection, including the planning of energy storage systems and maintenance. The founder of IntelliSolar graduated with the MBA Sustainability Management in Lüneburg, which supported him in various ways: First, the project management core of the company requires dealing with different kinds of expertise. Managing inter- and trans-disciplinary approaches, with experts from different disciplines and in interdisciplinary teams is a key topic of the MBA programme. Second, the alumni network of the MBA programme provided a platform of exchange with fellow students, some of whom became employees of the company. The founder formed a group of detailed knowledge of study collaborators in terms of their interests in and commitment to sustainability and also their strengths and particular area of expertise. Third, fellow MBA students work as architects in construction and other types of firms, which provides contacts, information and potential business opportunities. Utilizing the available support means the company has established a national network and works with regional partners near the customers who do the actual installation and local maintenance. With this innovation, the company contributes to the diffusion of PV systems in the mid-range size of projects. While large projects are often delivered by large investment companies with professional expertise and small projects on single-family houses can be undertaken by local heating and solar installation craftsmen, mid-size projects on smaller industrial buildings have a large potential with regard to the number of buildings and roofs, but require expertise and local support. This is exactly the market gap IntelliSolar serves and for whose customers the company has developed specific solutions. In addition to its services as a general contractor, the company provides services and technologies to substantially reduce installation time and costs for PV systems. Based on a car shell technology from the automotive industry, the company offers the fast installation system iFIX. Recently, the company has expanded both geographically to Spain and Switzerland and in terms of its range of services, now including rainwater catchment systems and small sewage water treatment systems.
4.3

Case 3: Eco-Venturing at Carl von Ossietzky University Oldenburg, Germany
4.3.1

University-linked support programme

The University of Oldenburg, located in the north-west of Germany, has a long tradition in sustainability-related teaching and research. Its three-term non-consecutive master's programme in Renewable Energy started as early as 1987. Based on its tradition and specific competencies in sustainability-related teaching and research, the Department of Business Administration, Economics and Law decided to expand the sustainability master cluster and introduce a new master's programme in Sustainability Economics and Management (SEM) from 2005.

A 2-month research visit to the Bren School of Environmental Science and Management at the University of California, Santa Barbara in 2008, offered a professor of innovation management and sustainability the opportunity to learn about the university's pioneering study programme in Eco-Entrepreneurship, which had been introduced only a year prior to his arrival. The professor subsequently persuaded his department to introduce an eco-entrepreneurship major study course as a specialization in the SEM master's programme. Central to the specialization in eco-entrepreneurship is the award-winning master's project module in Eco-Venturing which has been offered every winter semester since 2009 (Fichter et al.

2016

). The aims of the Eco-Venturing module are threefold: (1) To get students interested in entrepreneurial solutions to societal challenges, (2) to develop their entrepreneurial skills for sustainable entrepreneurship and (3) to develop sustainability-oriented business models in close cooperation with entrepreneurs and regional companies. Under the guidance of two professors and two coaches, four or five teams of between three and five students work with selected business partners to promote sustainable start-up ideas which are intended to be both economically successful and contribute to sustainable development goals.

In order to support sustainability-orientated business model development, the concept of a Sustainable Business Canvas was developed and is now being used by the students (Tiemann and Fichter

2016

). About 30% of all students in the master's programme SEM participate in the Eco-Venturing module to develop competencies in eco-venturing and in starting green businesses. Since 2009, a total of 170 students have worked on 44 different sustainable start-up ideas. Almost half of these sustainable business ideas (20) led to actual new firm creation or new business units in existing companies. The Eco-Venturing module is part of the entrepreneurial support system of the University of Oldenburg and the sustainability-specific support activities facilitate and accelerate academic entrepreneurship in the fields of clean technologies, renewable energies and sustainability. Every year, the programme supports students and researchers in the creation of between 10 and 20 green start-up projects and spin-offs (Fichter et al.

2016

). To date, 20 new eco-ventures providing approximately 100 new jobs have been created since 2009 out of the Eco-Venturing module.
4.3.2

Exemplary new venture

The start-up team from Coolar participated in the Eco-Venturing module in the winter term of 2015/2016. By then, they had already developed a prototype for an innovative solar-powered refrigerator technology that was almost carbon neutral. They also had a business plan for applying the technology for a specific use case. The refrigerator was intended to enable doctors and health professionals to preserve lifesaving medicine and vaccines in a reliable and eco-friendly way in developing countries. The Coolar team was also considering the application of the technology for a self-powered truck temperature control solution. The student team involved aimed to analyse and assess the market for truck refrigeration. A key outcome of the Eco-Venturing module was a report by the student team with a detailed competitor analysis, results from interviews with potential customers from the logistics sector and recommendations of promising market segments. This provided the Coolar team with a solid basis of information to facilitate business development. The work done in the Eco-Venturing module prompted Coolar to include a specific segment of the truck refrigeration market in its business model that was presented to investors. Coolar was formally founded as a new venture only a few months after the Eco-Venturing project and was able to attract venture capital. The contribution of the Eco-Venturing project was critical to the foundation of the company, because Coolar could prove to investors that it had thoroughly investigated promising market segments and identified potential customers and revenue options. After 2 years of technology development and testing, the seven team members of Coolar are presently preparing the market introduction of their revolutionary refrigeration technology. Two years after the Eco-Venturing project, the start-up team of Coolar considers the detailed competitor and market analysis provided by the Eco-venturing module students to be a valuable basis for company development and strategic decision making. Given the fact that the CO2 emissions are ten times lower than conventional cooling solutions, the scaling-up of their cooling solution in different markets and sectors is very likely to have a significant impact on regional and global sustainability.
5

Comparative case analysis

To assess regional sustainability impacts, we analyse cases comparatively in order to clarify the degree to which the university was the originator of the initiative, how it linked to public actors and generated knowledge spillovers and how regional impact was achieved (see below and Table

4

).

Table 4

Comparative case analysis based on the logic model of the theory of change
Programme

Input: functions provided

Activities: support provided

Output: benefit from programme

Outcome: entrepreneurial activities

Impact: potential regional benefit

UTG Augsburg

- Entrepreneurship experimentation

- Incubation

- Resource mobilization

- Networking

140 supported firms since 1998, of which approx. 40 are internationally active

- Support in foundation process of firms and of regional networks for sustainability

E.g. start-up Corrmoran (crucial inputs for technology and entrepreneurial processes)

- Institutionalization of a learning and networking space for sustainable development;

- Contribution to regional cluster activities

- New firm foundation

MBA Sustainability Management

- Influence on the direction of search (sustainability)

- Combined education in sustainability management, innovation, and entrepreneurship

- Interactive learning

48 courses (each 30 h); transfer module; final practice workshop; thesis; 5 courses dedicated to entrepreneurship; 8 courses with entrepreneurship content as part of the course; 40 graduations per year since 2005

- Support in new eco-venture founding processes

- Support of knowledge transfer and diffusion processes

E.g. start-up IntelliSolar (crucial inputs for venture-specific human capital of the founder, networks for business development and recruitment)

- Acceleration of decentralized solar energy production

- Acceleration of energy transformation on the regional level;

- New firm foundation

Eco-Venturing

- Influence on the direction of search

- Entrepreneurship education and experimentation

- Incubation

- Resource mobilization

- Networking

44 supported green start-up projects, incl. elaborated sustainable business models, and 170 students with sustainable entrepreneurship expertise since 2009

- Support of new firm foundation through entrepreneurial education

- Incubation and acceleration of sustainable business ideas

E.g. start-up Coolar (crucial inputs to the venture's business case, market and competitor knowledge, and business development)

- Reduction of greenhouse gas emissions

- Contribution to the profile of the region as having a sustainable and resilient economy

- New firm foundation
Based on our literature review, we structure the comparative case analysis along the different categories developed by the theory of change. In these categories, we build on the entrepreneurial ecosystem and innovation system literatures to clarify and structure the inputs provided in each case in a systematic manner.
We then use the knowledge spillover theory of entrepreneurship as our framework to categorize different types of outputs that represent benefits from the programmes and to guide our interpretation when analysing specific start-up examples to illustrate in more detail how the programmes led to or supported the founding activities of specific individuals. Nevertheless, we find more convergence in terms of the outputs, outcomes and longer-term impacts across the three programmes, which we address in Section
6
of the paper.
A number of functions can be identified as inputs to entrepreneurial and innovation processes in each of the cases (see Table
4
), but the combination of functions is different for each of them. This is related to the differing activity profiles, which create individual forms of the support provided. Overall, what can be learned from the comparative case analysis is that the three cases present different configurations of university-related support programmes for sustainable regional development. This reveals different paths and processes in order to strengthen sustainable entrepreneurial ecosystems, beyond the classic incubator, which for example Theodoraki et al. (
2018
) analysed empirically.
To illustrate, while the UTG is more of a classic incubator providing a mixture of indirect (e.g. finance and office space) and direct (e.g. university spin-offs moving into the UTG) university support, the idea generation and facilitation of the Eco-Venturing case as a module is more early-stage with a stronger focus on influencing and supporting the idea and business model development. In comparison, the MBA is not a module like for example Eco-Venturing, but a comprehensive sustainability education programme that provides support across a much broader range of themes and skills. The heterogeneity found in our comparative case analysis is an important insight that is developed upon in Section
6
.
Comparing the three examples of firms that received support from our case programmes, we find clear evidence of knowledge spillovers from universities to start-ups as proposed by the knowledge spillover theory of entrepreneurship. More specifically, we find a diverse set of mechanisms governing how knowledge spilled over in these instances from the university either in the form of technology, market information, network access or entrepreneurial processes such as funding access, business model development or team formation. It also becomes clear that different types of knowledge matter simultaneously, but that their relative importance differs. For example, technology and entrepreneurial processes were particularly important to Corrmoran, whereas for IntelliSolar, it was network knowledge. Coolar's main gains were market information and input on entrepreneurial processes.
While these examples show that the programmes certainly contributed significantly to the development of the entrepreneurs in question, other support structures were important too. The case descriptions provided mention several specific features that can be identified individually as being a form of strategic resource provided to the ventures, in that the benefit could not be accessed through other support structures. However, it also becomes clear that such programme features are highly idiosyncratic and thus depend strongly on the specific combination of exemplary entrepreneurs and (overall) support structures, as has also been confirmed by Kolb and Wagner (
2018
) in the case of academic entrepreneurship generally. We can however state with confidence that such unique features of the programmes exist in most cases but differ across specific start-ups and probably also in terms of when they provide the greatest benefit. This aspect is elaborated upon in the next section, including from a more holistic perspective in terms of a configurational notion.
Furthermore, clearly, the impacts generated through the three examples cannot be fully assessed because all the firms have only recently entered the market. However, all three examples reveal that an initially mainly regional impact may extend considerably beyond the region in the longer term. This is the case for Corrmoran that was ultimately acquired in a trade sale by a larger incumbent that was active beyond the region. Similarly, IntelliSolar recently entered new markets in other countries. Finally, the business activities of Coolar were also aimed at the international market from the outset. This is an important insight, which we will expand upon in Section
6
.
6

Discussion and conclusions

Based on the increasingly relevant third mission in regional and economic development that universities globally are urged to take on, this study builds on three case studies in Germany and analyses how university-linked support programmes contribute to sustainable entrepreneurial ecosystems and which impacts this delivers for sustainable regional development. Our comparative case study analysis reveals a differentiated view of entrepreneurship-related interventions.

First of all, we find evidence addressing our research questions that sustainable entrepreneurial ecosystems are positively affected by university-linked support programmes through certain knowledge spillover modes. For example, in the case of UTG Augsburg, the university's role as one instigator of the initiative was clear (along with the state of Bavaria, the local chamber of industry and commerce, and other actors). That role then triggered support by other actors. At the same time, the university also provided direct inputs, such as spin-offs that entered the incubator. Other spillover modes are the supply of entrepreneurial knowledge, incubation activities and support services for green start-ups through the Eco-Venturing module. Also, the university provides knowledge spillovers to the entrepreneurial ecosystem via the system functions (Table

1

) of influencing the direction of search, learning, resource mobilization and networking.

One major insight flowing from the current study is that university-linked support programmes can improve the entrepreneurial ecosystem for sustainable entrepreneurship through different pathways and at different intervention points. For example, interventions can be undertaken early as in the Eco-Venturing and MBA cases (which focus more on idea generation/identification and opportunity evaluation) or later as in the UTG case (which has a stronger focus on opportunity exploitation and incubation).

One main reason emerging from the cases for the possibility of different pathways and roles of universities is that universities operate under specific regional conditions and therefore choose and enable specific roles or pathways, and also determine intervention points that best fit such conditions. As a result, different types or configurations that develop as stable outcomes of such a fitting process are identifiable. Ultimately, context thus plays an important role for any university-linked support programme. In our cases, for example, the cluster programme in Bavaria and the strong civil society inherent in the "peace city" Augsburg, which has a strong emphasis on local Agenda 21 processes and networking, shaped the UTG activities.

In contrast, Lower Saxony lacks comparable top-down initiatives, meaning local bottom-up initiatives gain more freedom to operate and at the same time a stronger need to provide substitutes for critical elements of the support programmes that are provided through the cluster management in Bavaria. These differences between the two states suggest that different configurations of university-linked support programmes can emerge depending on how context and the conditions at the university interplay and replace or complement each other to facilitate the system functions necessary to drive improvements of the regional ecosystem supporting sustainable entrepreneurship. This nuanced view is important for a better understanding of the potential and role that universities have in supporting sustainable entrepreneurship ecosystems.

Our comparative analysis based on the theory of change and the entrepreneurial ecosystem model by Stam and Spigel (

2016

) was applied to determine positive effects on sustainable development in the region. The analysis revealed both direct and short-term outputs in terms of entrepreneurial activity and less direct, broader long-term outcomes. The tangible direct outputs include both specific examples of successful ventures and more general contributions to sustainable development in the region (see Table

4

).

We further contribute by expanding the analysis of barriers and success factors affecting how universities can support sustainable entrepreneurship and of how support programmes could be actioned (e.g. Fichter and Tiemann

2018

). The study also shows how such programmes trigger sustainable regional development outputs, outcomes and impacts, which addresses a gap in the literature. Depending on the context, what may be considered a barrier can become an opportunity as in the case of the MBA programme where the lack of a specific support system has created space and incentives to become entrepreneurial and use a window of opportunity to establish the MBA. In turn, the MBA itself created a support programme and offered the incentives and knowledge necessary to found a company (IntelliSolar). Specific positive impacts that can be identified in our cases are a reduction of greenhouse gas emissions (by increasing the proportion of energy generated through renewable means in the region), the provision of additional employment with lower health risks and the intensification knowledge spillovers in regional networks, as well as the internalization of externalities flowing from improvements to knowledge and social feedback loops. The latter can also be seen as the emergence of new capabilities in the region that make it more resilient and sustainable.

The cases presented here also illustrate the potential for long-term effects. Clearly, what starts as a purely regional impact can subsequently exert an effect extending considerably beyond the original region, especially when sustainable regional development is successful. This expansion of effect may mean that the creating region does not retain the largest share of the benefits but equally that a smaller share of a bigger benefit ultimately still makes a strong regional impact. This suggests that even start-ups that do not target significant regional impacts but making a strong positive impact on sustainable development at the national or global level can ultimately substantially benefit a region — a dual regional paradox that merits further exploration.

Related to this insight, while the linear logic model applied in first approximation covers the most important causalities to answer our research question, we urge future research to explore non-linear extensions to the framework to address this potential limitation. For example, within our chosen context, future research might comprehensively assess impacts, which would also support an improved assessment of long-term effects.

Building on above insights, in terms of the broader question of how and with what impact university-linked programmes can support sustainable entrepreneurial ecosystems, both directly and indirectly, we exposed strong evidence that universities taking on a third mission prompts crucial activities that overcome knowledge filter issues (Braunerhjelm et al.

2010

). In doing so, they ultimately enable and improve important ecosystem functions supporting sustainable entrepreneurship. This occurs for example in terms of not only providing education and learning as a basis for knowledge spillovers, but also through more complex and potentially less direct knowledge spillovers, such as the generation of spin-offs.

Our findings have implications for policy-makers and academics. Clearly, a sustainability focus in university-linked support programmes can play an important role in fostering sustainable entrepreneurial ecosystems and sustainable regional development. The cases analysed in our sample all represent programmes with an explicit sustainability focus that is an element of institutional entrepreneurship; a finding that responds to calls in the literature for more research in this area (Hall et al.

2010

). Conventional entrepreneurship support, however, though increasingly available with the involvement of universities, typically lacks such a sustainability focus (Theodoraki et al.

2018

; Tiemann et al.

2018

).

Relating our findings back to our conceptual foundations in terms of the knowledge spillover theory of entrepreneurship, entrepreneurial ecosystems and the theory of change, we find strong evidence of a process involving different actors providing inputs as the basis for activities that ultimately generate functions in order to achieve effects at different levels (outputs, outcomes and impacts). We also identified different feasible configurations based on region-specific fit and substitution options. Identifying the possibility of universities using different pathways and intervention points is an important insight that policy-makers should take into account and that deserves further attention in academic research.

At the same time, an important implication for universities wishing to become involved in support programmes for sustainable entrepreneurial ecosystems is that they should analyse their specific regional context to ensure that their chosen configuration and design (e.g. in terms of intervention points, roles or pathways) fit the specific regional situation in the best possible way. This applies equally to support programmes with a more environmental focus or those with a more social focus. In turn, successful implementation of regional strategies can ultimately have strong positive impacts beyond the region. Both universities and (regional) policy-makers should take this wider impact into account at the outset. Doing so would enable them to set realistic expectations for the regional development results they target. To conclude, our article addresses calls to research more on the process and effect dimensions of (sustainable) entrepreneurial ecosystems (Agarwal et al.

2007

,

2010

; Stam and Spigel

2016

). In particular, our case-based analysis contributes by highlighting different configurations of university-linked programmes supporting sustainable entrepreneurial ecosystems. In doing so, we complement and extend work focussing on specific configurations and front-ends of sustainable entrepreneurial ecosystems (e.g. Theodoraki et al.

2018

; Fichter and Tiemann

2018

). Overall, our paper should therefore extend understanding of the pathways available for universities to support sustainable entrepreneurial ecosystems by enabling knowledge spillovers and the impact doing so can have on sustainable regional development.
Acknowledgements
We are grateful to our colleague Markus Beckmann for valuable inputs and discussions during the earlier stages of this project and the corresponding paper, as well as for beneficial comments from the participants at the G-Forum 2017 in Wuppertal and from two anonymous reviewers. Erik Hansen furthermore thanks Quality Austria - Trainings, Zertifizierungs und Begutachtungs GmbH, Vienna and the State of Upper Austria for their funding of the Institute for Integrated Quality Design.
Open Access
This article is distributed under the terms of the Creative Commons Attribution 4.0 International License (http://creativecommons.org/licenses/by/4.0/), which permits unrestricted use, distribution, and reproduction in any medium, provided you give appropriate credit to the original author(s) and the source, provide a link to the Creative Commons license, and indicate if changes were made.
Publisher's note
Springer Nature remains neutral with regard to jurisdictional claims in published maps and institutional affiliations.