15-06-2020 | Regular Paper | Issue 5/2020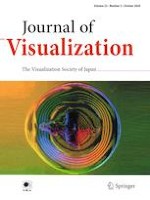 Unsteady skin-friction field estimation based on global luminescent oil-film image analysis
Journal:
Authors:

Taekjin Lee, Chungil Lee, Taku Nonomura, Keisuke Asai
Important notes
Publisher's Note
Springer Nature remains neutral with regard to jurisdictional claims in published maps and institutional affiliations.
Abstract
A global luminescent oil-film (GLOF) image analysis method to estimate unsteady skin-friction fields in an unsteady flow field is proposed and demonstrated. A governing equation describing the dynamics of the oil film (the thin-oil-film equation) is employed for the unsteady oil-film images. The frequency response of the oil-film movement is analyzed, and a cutoff frequency is defined as a function of the oil-film thickness and the kinematic oil viscosity. The estimating skin-friction vector is defined along with a spatiotemporal weighted window and obtained by solving the overdetermined system of the thin-oil-film equation. The system can be solved by using the weighted linear least-squares method, and the time-resolved skin-friction field can be estimated. The time-resolved GLOF image analysis method is demonstrated on an experiment of a junction flow on a flat surface with a square cylinder. The GLOF images in the Kármán vortex shedding bounding the flat surface were acquired, and the time-resolved skin-friction fields were obtained. The results showed that fluctuation in the skin-friction vectors corresponds to the shedding frequency, and the vortices bounding the surface were extracted. The averaged skin-friction field is compared with the result of the previous study based on the time-independent model. The normalized skin friction from both methods showed good agreement, which indicates that the quantitative value will be obtained when a calibration process is involved in a future study.
Graphic abstract
×