25-02-2020 | Original Article | Issue 9/2020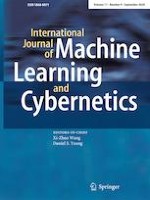 Unsupervised attribute reduction based on
\(\alpha \)

-approximate equal relation in interval-valued information systems
Authors:

Xiaofeng Liu, Jianhua Dai, Jiaolong Chen, Chucai Zhang
Important notes
Publisher's Note
Springer Nature remains neutral with regard to jurisdictional claims in published maps and institutional affiliations.
Abstract
As generalizations of single-valued information systems, interval-valued information systems (IVISs) can better express real data. At present, numerous unsupervised attribute reduction approaches for single-valued information systems have been considered, but there are few researches on unsupervised attribute reduction for IVISs. In this article, we investigate a new fuzzy relation by means of similarity between interval values, and propose the concept of
\(\alpha \)
-approximate equal relation in view of the fuzzy similarity class. Then the equivalence relation induced by
\(\alpha \)
-approximate equal relation is used to define the information entropy, which is used to construct the unsupervised attribute reduction method together with mutual information for IVISs. Finally, experiments demonstrate that the advanced unsupervised attribute reduction method is effective and feasible in IVISs.