2020 | OriginalPaper | Chapter
5. Urbanization and the Quality of Growth in Uganda: The Challenge of Structural Transformation and Sustainable and Inclusive Development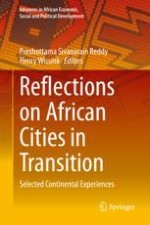 Read first chapter
Author: Dmitry Pozhidaev
Publisher: Springer International Publishing
Abstract
This chapter analyzes Uganda's economic growth and urbanization from the perspective of the growing international and domestic concern about the quality of growth and rising inequality. It focuses in particular on secondary cities and towns to analyze their contributions to the quality of growth and their potential. Uganda has been growing impressively over the past three decades at about 6% of GDP annually and has one of the fastest rates of urbanization in the East Africa region. But this growth has not resulted in a matching quality. Average incomes have been lagging behind the GDP growth, whereas poverty and inequality has increased. Urbanization has welfare-improving effects, but these effects are distributed unevenly between urban areas, and cities are the main contributor to inequality nationwide. However, secondary cities and towns are characterized by less inequality than the primary cities, with a relatively higher share of higher productivity sectors, particularly manufacturing.
Cities' contribution to structural transformation is undoubtful, with over 70% of national nonagricultural GDP being produced in urban areas. But the kind of structural transformation taking place in Uganda, with labor moving from less productive activities in rural areas to marginally more productive activities in urban areas (most notably informality), is neither sustainable nor truly transformative. Cities are yet to realize their full potential as engines of structural transformation and sustainable and inclusive growth. Secondary cities and towns may become game changers. But they face a challenge of investment readiness to incentivize business activities in higher productivity sectors—an area of particular importance to secondary cities and towns, relatively neglected by both the central government and private investors. This challenge requires a comprehensive approach and substantive changes in the applicable regulatory framework to allow municipalities to expand their fiscal space. This chapter offers a number of practical recommendations in this respect. Most importantly, municipal authorities are yet to develop a business mentality, including the basic concepts of comparative advantage and risk-return tradeoff, to be able to manage their cities as businesses, not as government offices, and to effectively engage the private sector.
This takes political will and investment in the fundamentals, such as capacities and systems for urban governance and management at all levels. The manner in which urbanization is planned and managed today will play a critical role in the quality of growth in Uganda over the coming decades and in particular the achievement of structural transformation and its national development objectives.